Striegel Co-Authors Book on Eating Disorders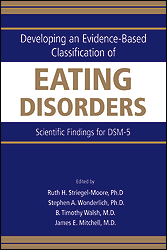 Ruth Striegel, the Walter A. Crowell University Professor of the Social Sciences, professor of psychology, is the co-author of  Developing an Evidence-Based Classification of Eating Disorders: Scientific Findings for DSM 5, published by the American Psychiatric Association Press in 2011.
The culmination of several years of collaborative effort among eating disorders investigators from around the world, this volume provides summaries of the research presentations and discussions of the conceptual and methodological issues involved in diagnosing and classifying eating disorders. The mission of the DSM-5 Eating Disorder Work Group was to improve the clinical utility of eating disorder diagnoses by recommending revisions based on sound empirical evidence. Although the objective was to provide empirical information to the DSM-5 Eating Disorders Work Group, the research presented in this book should be invaluable to the eating disorders research and clinical community at large and, by extension, to their patients.