Chang '02 Creates Art with WSJ Hedcuts, Collects White Albums
The Wall Street Journal first attempted illustrating the news using the stipple drawing known as the hedcut with news maker portrait made from a series of dots and lines that modeled on currency engravings.
Rutherford Chang '02 now has transformed these illustrations into an art project called "The Class of 2008," on display at the White Space Gallery in Beijing through March 18. He has reduced the Journal's news coverage of 2008 to just the hedcuts and rearranged them, yearbook-style, in alphabetical order.
"The Class of 2008" is "typical of his past works," according to RedBox Studio, which promotes contemporary art in China. "The painstaking and fastidious process of collecting, cutting, alphabetizing, and reorganizing is rewarded by the succinct visual observation of a specific time in our contemporary world."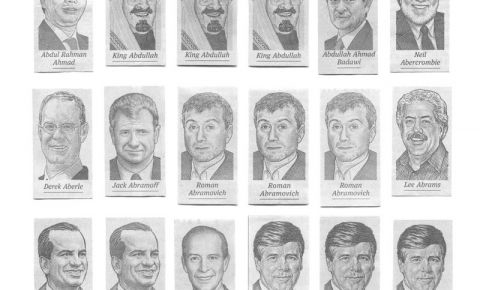 As Josh Chin recently reported in the China Real Time Report in The Wall Street Journal: "The result is a nostalgic tome that provides a stripped-down, almost abstract, view of one of the most remarkable news years in recent memory but also an illuminating window into the priorities and thought-processes of the Journal as it sought to document the year's events."
"The inspiration for the project, according to Mr. Chang, who splits his time between China and New York, was an Oberlin College yearbook for the Class of 1974 given to him by a friend. 'I was impressed by how that collection of faces and names really captured that era, so I wanted to apply that to something contemporary,' he explains."
For this current art work, Chang extracted every hedcut he could find through the end of 2008, totally in about 4,000 ink-dot portraits. Among the leaders in appearance in a U.S. presidential election year were Barack Obama (94 times), John McCain (74), Hilary Clinton), and Treasury Secretary Henry Paulson (52).
The Journal reports: "While much of the book looks like the roster at an Ivy League secret society reunion, there are some surprising exceptions. Comedian Adam Sandler and androgynous Chinese reality star Li Yuchun make cameos, as do rapper Kanye West and Ang Lee's The Hulk."
Chang says: "This is a historical document of an experience we have all lived through. I want people to feel like this is their yearbook."
Chang also spoke to WNYC 93.9 FM about his collection of more than 500 copies of The Beatles' White Album: