H.F. Guggenheim Supports Teter's Research on Blood Libel, Papal Power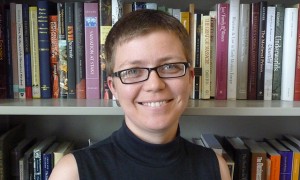 As a 2012-13 Harry Frank Guggenheim Fellow, Magda Teter, the Jeremy Zwelling Professor of Jewish Studies, will narrate the cultural, social and political connections between Italy—center of papal power, and Poland—home to the largest Jewish community in the world, in her new book, The Pope's Dilemma: Blood Libel and the Boundaries of Papal Power.
Teter, who also is chair and professor of medieval studies, professor of history, and professor of feminist, gender and sexuality studies, will take a full year leave on sabbatical to work on the book. Harry Frank Guggenheim Foundation sponsors scholarly research on problems of violence, aggression and dominance. The award will support Teter's travel and research expenses to the Vatican and Poland.
"The Pope's Dilemma takes the familiar story of blood libel against Jews to tell a much broader story of religion and politics in Europe, demonstrating that the persistence of the 'blood libel' illuminates the reach, and also the limits, of papal authority in coping with local powers – a topic of significant interest even today, in light of the sex abuse scandals," Teter says.
Among the vivid characters in these compelling stories are popes, bishops, cardinals, and papal nuncios, often frustrated by assignments that take them away from their comfortable seats in Italy, lower Catholic clergy, as well as Jewish community leaders across Europe who sought to muster support and vindication from libels.
Teter will draw her source material from official decrees, court records, books and pamphlets, and secret diplomatic correspondence between papal nuncios and Rome and art and new printed media, which played an important role in the spread of religious stereotypes and violence. These sources, she says, are scattered among libraries and archives of Europe and Israel, but predominantly Poland, Italy, the Vatican City, and Belgium. They're written in Polish, Italian, Latin, Hebrew, Yiddish, French and Spanish.
"The Pope's Dilemma should appeal to readers seeking to learn more about the inner workings of the Catholic church, history of lobbying and diplomacy, as well more broadly Jewish history, the history of anti-semitism, eastern Europe, and Italy," Teter explains. "The book will be written in a clear narrative style, telling gripping stories of political machinations that followed the blood libels."
This is Teter's second book project supported by the Harry Frank Guggenheim Foundation. Sinners on Trial was published by  Harvard University Press in 2011. She's also received awards from the Memorial Foundation for Jewish Culture, the Koret Foundation, YIVO Institute, and the Yad Ha-Nadiv Foundation (Israel), among others.