Editors, Journalists, Writing Fellows to Teach Wesleyan Writers Conference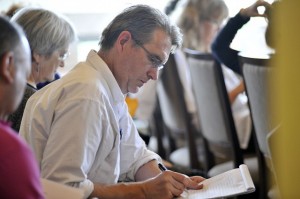 Well-known and award-winning novelists, journalists, publishers and editors will be on the faculty of the 56th Annual Wesleyan Writers Conference, held June 14-17 on campus.
The conference welcomes both experienced writers and new writers.
"Our distinguished faculty offer careful attention to your work and will offer an array of seminars, readings, and panel discussions, all designed to move your work forward, or help you launch a new project," explains Anne Greene, director of the Wesleyan Writers Conference, director of Writing Programs.
Over the years, conference participants have gone on to win a number of awards, including the Pulitzer Prize, Whiting Writers' Award, and nomination for the Los Angeles Times Book Prize.
The Writers Conference features seminars, workshops and panels on novel writing, short stories, poetry, nonfiction, journalism, film and TV, new media, publishing, tips on how to sell your book and talks with agents and editors. Faculty will speak on writing for the stage, writing about science and medicine, short and long form journalism, the future of publishing in the electronic age and more.
The Wesleyan Writers Conference also will host a special one-day festival on Saturday, June 16.
Each member of the conference faculty leads a daily seminar, usually including a short lecture, discussion, and (optional) writing exercises. Participants will be given ample time to develop their own writing in quiet spaces and the Wesleyan libraries.
The faculty include novelists Roxana Robinson, Wells Tower '96, Kit Reed, Peter Blauner '82, and Amy Bloom '75; poet Honor Moore; and nonfiction writers/ journalists Lis Harris, Peg Tyre and William Finnegan of The New Yorker. Publishers, editors and agents include Pamela Dorman '79 of Viking Press; Stuart Krichevsky; Andre Bernard  of the Guggenheim Foundation; Johnny Temple '88 of Akashic Books; Bill Contardi; and others. View the faculty member bios online here.
View a video of the Writers Conference below:
[youtube width="640″ height="420″]http://www.youtube.com/watch?v=aSzFzyDS-n0[/youtube]
In addition to the faculty, the The Writers Conference will be taught by the 2012 Teaching Fellows Kate Maruyama, Emily McLaughlin, T. Zachary Cotler and Janet O'Shea. These junior faculty work closely with participants, providing editorial help and advice about careers.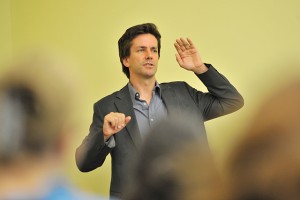 Fiction Fellow Kate Maruyama is a writer, teacher, and editor. She is the author of award-winning short fiction and a forthcoming novel, Harrowgate. She also has substantial experience in the film industry, having worked for the William Morris Agency, Jon Peters' Company, and as an executive for Sylvester Stallone at Universal. She is also the co-founder of Annotationnation.com.
Fiction Fellow Emily McLaughlin is a novelist and playwright. She has also worked in Los Angeles as a screenwriter for Warner Brothers' TV show Supernatural and as a script consultant for ABC Daytime Television in New York City. She has recently completed a new novel.
Poetry Fellow T. Zachary Cotler is author of several poetry collections including House with a Dark Sky Roof, and a recent novel. In 2011, he received the Ruth Lilly Fellowship from the Poetry Foundation.
Barach Fellow in Nonfiction Janet O'Shea is the author of numerous essays, a novel, and two books about dance, both published by Wesleyan University Press. She is commissioning editor for the Routledge Dance Studies Reader and has worked as a choreographic mentor and dramaturge.
To register for the conference, click here. Scholarships and fellowships may be available. For more information, or to request a copy of the brochure, contact Anne Greene at 860-685-3604 or e-mail agreene@wesleyan.edu.