Fellows Explore Black History in School Curricula, Deglaciation, Schooling in Nicaragua, More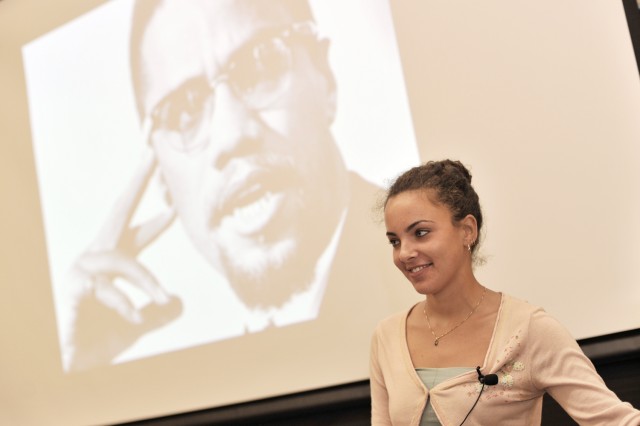 Last summer, Elsa Hardy '14 worked for a youth enrichment program in New York City. Several of the children came from the Frederick Douglass Academy, a middle school in Harlem where 75 percent of the students are black.
"I asked the students who went there, 'Do you know who Frederick Douglass was?' None of them did. They had no idea," Hardy recalls. "I was shocked to learn that the students didn't know who the namesake of their school was."
Hardy, who is majoring in African American studies and Hispanic literatures and cultures, became curious as to why the average middle school student received such a diluted black history lesson in the classroom. As a 2012 participant in the Mellon Mays Undergraduate Fellowship summer session, Hardy launched a research project on "Middle School U.S. History Curricula, Black National Identity, and Academic Performance."
"If U.S. history curriculum covers black history minimally, or not at all, what effect does this have on the ways in which black students understand their place in our nation's history or in contemporary American society," she asks.
The Mellon Mays Undergraduate Fellowship Program is a highly selective mentoring program that prepares students of color and others committed to overcoming racial and ethnic disparities in education for graduate study and careers as university professors in the arts and sciences. Four fellows from Wesleyan and six fellows from Queens College spent six weeks this summer working on their preliminary research. They presented their findings and plans on July 26.
"The summer session is just the beginning of a life-long relationship with these students," says MMUF coordinator Krishna Winston, the Marcus L. Taft Professor of German Language and Literature and professor of environmental studies. "The Mellon Fellows will continue to be mentored through their junior and senior year by their peers, faculty and administrators, who will support them as they enter the academic world."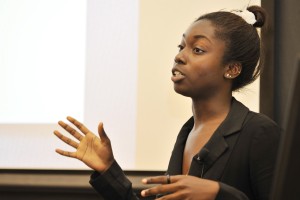 In addition to conducting research, the fellows attended weekly writing and research classes, workshops on time and financial management, dinners with faculty members, meetings with reference librarians at Olin Library and individual writing conferences. They toured Wesleyan's Special Collections and Archives and the Davison Art Center, and made field trips to Boston, Yale University, the Mashantucket Pequot Museum, the Mark Twain House and an exhibit there on racism.
Fellow Julia "Jay" Benedith '14 seeks to understand connections between the United States' foreign policy and changes in Nicaragua's education system between 1979-1997, a period that includes the Sandanista period and an administration favored by the U.S. Benedith reveals that the United States had, and continues to have, a strong presence within the Nicaraguan education sphere. Today, only 50 percent of children in the country are completing primary school.
"I chose this topic because an educated populace is a precondition for an economically, socially, and politically sound nation," she says.
During the next two years, she hopes to undertake fieldwork in Nicaragua to better define the country's relations with the United States and to understand why literacy and access to education remain so limited.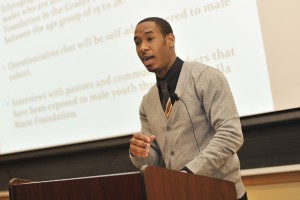 Jamaican native Prince Carter '14 also is taking his research abroad. In his study, "The Absence of Male Youth in Inner-City Jamaican Churches," Carter asks what influences the decision of Jamaican male youth to not attend church.
"The answers to this question will hopefully prove fruitful in alleviating the gender imbalance that has so long plagued Jamaican churches," he says.
Although central positions in the church are still held by men, the pews generally display a seven-females to one-male ratio, Carter explains. Jamaican males tend to view the religious arena and the expression of such Christian values as tenderness, meekness, caring, showing affection and practicing charity as effeminate.
"In the hyper-masculine matrix of Jamaican society, males who choose to adhere to moral codes are essentially defying societal conventions of masculinity which dictate having as many female partners as possible. Attending church might be construed by some as homosexual behavior," Carter says.
Earth and environmental sciences major Danielle Martin is studying "Deglacial Ice Dynamics of Antarctica during the Cretaceous Period." In the past 10 years, the global temperature has risen 2 degrees, which is causing ice sheets to melt.
"If the sea level rises, it has the potential to cause many disasters such as the flooding of wetlands, erosion of inlands and the loss of life. If the sea level rises six meters, nine counties in Florida would be underwater," Martin explains.
All Mellon Fellows will continue their research for the next two years at Wesleyan and after graduating. By this September, 11 Mellon alumni from Wesleyan will be active in Ph.D programs. Nationally, more than 500 Mellon fellows have Ph.Ds. and most are teaching at colleges and universities.
Fellows from Queens College also worked on research projects at Wesleyan this summer. They include sociology major Mikail Ahmed; history major Hugo Beras; archeology and Africana studies major Henrico Joseph; history and economics major Ernst Pierre; English and classics major Nicole Nowbahar and English major Jessica Powell.
Renee Johnson-Thornton, dean for diversity and student engagement, is the associate coordinator of the MMUF. Joseph Fitzpatrick, visiting assistant professor of letters at Wesleyan, and Richard Sosa of Yale University served as MMUF instructors.
For more information on the Mellon Mays Undergraduate Fellowship Program, visit http://www.wesleyan.edu/mellon_program/. Additional photos of the July 26 presentations are below: