Rosenthal Reads from his New Book on Pete Seeger in NYC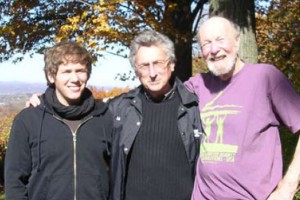 Wesleyan Provost Rob Rosenthal and his son, Sam Rosenthal, presented a reading with rock 'n' roll Hall of Famer Pete Seeger July 18 at Bryant Park in New York City. They are mentioned in this July 19 The New Yorker story. According to The New Yorker, "Rosenthal spoke … briefly, about collecting Seeger's words. He said that over and over, he found letters to Seeger saying, 'I'm in the middle of my own political struggle and what has kept me going is your music.'" The letters were "From people all over the world," Rosenthal said.
Rob and Sam Rosenthal are the co-editors of the book, Pete Seeger: In His Own Words, published in June 2012. Seeger signed copies of his book at the event.
In addition, Seeger will be on Colbert Nation Aug. 6 discussing the book.
In Pete Seeger: In His Own Words, Seeger shares a wide array of sources letters, notes to himself, published articles, rough drafts, stories, and poetry creating the most intimate picture yet available of Seeger as a musician, an activist, and a family man in his own words and from his own perspective. From letters to his mother written when he was a 13-year-old desiring his first banjo to speculations on the future, this book covers the passions, personalities, and experiences of a lifetime of struggle including the pre-WWII labor movement, the Communist Party, Woody Guthrie, the blacklist, the Civil Rights movement, Martin Luther King, the struggle against the war in Vietnam, Bob Dylan, travels around the world, cleaning up the Hudson River, Granny D, Fidel Castro, Bill Clinton, and countless uncelebrated activists with whom Seeger has worked and sung. The portrait that emerges is not a saint, not a martyr, but a flesh-and-blood man, struggling to understand his gift, his time, and his place.
Rob Rosenthal also is the John E. Andrus Professor of Sociology and vice president for Academic Affairs. He is an expert on music and social movements.