Biddiscombe, 1983-84 Wrestling Team to Join Athletics Hall of Fame
Wesleyan's Athletics Hall of Fame will induct its sixth class Friday, Oct. 19 as part of the university's Homecoming/Family Weekend. This year's inductions will include an outstanding coach, administrator and leader and the championship wrestling team he coached in 1983–84. The coach and team will join the 30 individuals and five teams currently in the Hall.
Being honored and inducted is recently retired and long-time athletics director John Biddiscombe and the New England Championship Wrestling Team he coached in 1983–84, Wesleyan's last New England wrestling champion until this year's 2011-12 title squad.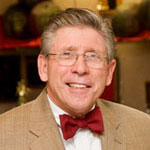 John Biddiscombe served on Wesleyan's athletic staff for 38 years, the final 24 as its director. He was extremely active in regional and national committees, chairing the NCAA Management Council responsible for oversight of Division III operations and serving as a member of the NCAA Executive Committee. He was named Division III Athletic Director of the Year for the Northeast Region by the National Association of College Athletic Directors in 1999–00.
As director of athletics, Biddiscombe oversaw the development of the Freeman Athletic Center, one of the premier athletic facilities in New England. He championed the recruitment of full-time coaches for women's sports, initiated both the Athletics Advantage (A-Plus) Program and a faculty-team mentoring program. More recently, he helped establish the Alumni Athletics Advisory Council, and developed the Wesleyan Athletics Hall of Fame.
Biddiscombe came to Wesleyan in 1974 as head wrestling coach and assistant coach in both football and track and field. Over the 15 years (1974–1989) he led wrestling, he compiled a won-loss record of 128-85-3. His 1983-84 team, which is being inducted, won the New England championship. That same year he was also voted New England wrestling coach of the year, as he was again in 1989. He was inducted into the New England Collegiate Wrestling Hall of Fame in 2004.
Biddiscombe was very involved in community service during his time at Wesleyan. He served the Middlesex United Way in many capacities, including a term as its president in 2002–2004. He also chaired the grants committee of the Middlesex County Community Foundation and was vice chair of its Board of Directors. He was a member of the Executive Committee of the Nutmeg Chapter of Big Brothers and Big Sisters.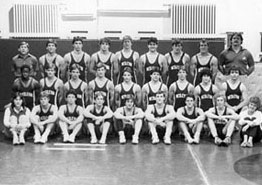 The 1983-84 Wrestling Team out-pointed 14 other Division III teams to win Wesleyan's first New England College Conference Wrestling Association Championship. During the dual-meet season, Wesleyan set a then school record for victories in a season with a 14–2–1 mark, eclipsing the record set by the 1982–83 squad which fashioned a 13–1 mark. The 1983–84 season highlighted a brilliant period for Wesleyan wrestling under head coach John Biddiscombe.
The Cardinals put together a streak of 11 consecutive winning seasons from 1977-88 and captured eight straight outright Little Three titles from 1981–89, including victories over Williams, 43–0, and Amherst, 36–7, during 1983–84. From 1982–85, Wesleyan enjoyed a 38–7–1 dual-meet record and was 6–0 in Little Three matches.