Wesleyan's Dairy Products Supplied by Alumni Farmers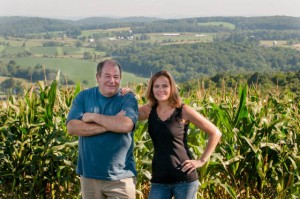 Got milk?
All-natural dairy products, farmed and distributed by two Wesleyan alumni, are MOOving into the university's Dining Services this semester.
Rick Osofsky '66 and his daughter Kate '94 are owners and operators of Ronnybrook Farm Dairy in Ancramdale, N.Y. As second and third generation dairy farmers, the Osofskys pride themselves on their natural farming methods using a small herd of Holstein cows.
"Our dairy products are bottled on site in the morning, and since we're located less than two hours from Wesleyan, they arrive fresh," Rick explains. "We're both so pleased to bring a bit of our farm back to Wesleyan."
A frothy, white milk Ronnybrook mustache is actually "green." The Osofsky family grass-feeds their cows in pesticide-free pastures, which may produce milk higher in Omega-3s and anti-carcinogens. All manure generated on the farm fertilizes the crops they grow for feed, and they heat the farm's water with a 30-panel solar heat collector. They also reuse glass bottles up to 12 times before sending them to a recycling facility.
Ronnybrooks' all-natural farming methods lead to a better-tasting, and better-for-you dairy product, explains Brian Dagnall, executive chef of Wesleyan's Dining Services.
"When (Wesleyan's) Dining Services began carrying Ronnybrook products last March, the drinkable yogurts flew off the shelves," Dagnall says. "We feel that Ronnybrook is the best possible dairy source to provide us with dairy, and their Wesleyan ties were secondary to us. Their product is by far the best in the area," Dagnall says.
This fall, students will find Ronnybrook milk and other dairy products at the Usdan Marketplace, Usdan Cafe, Summerfields Dining Hall, Pi Café and Wes Shop. In addition, Wes Shop will participate in a glass bottle milk program where students can exchange their empty bottle for a full bottle.
Ronnybrook Farm originated in 1941 by Nana and Papa Osofsky, who named their small dairy farm after their eldest son, Ronny. Today, an extended family of kids and cows continues to work the same Hudson Valley pastures.
For Rick and Kate Osofsky, farming is a second career. Rick, a government major and an attorney by trade, left his law practice to focus exclusively on the family farm. Religion major Kate, a teacher and preschool administrator, works as the controller and manages the farm's finances. Both father and daughter credit their Wesleyan experience for leading them back to the family farm.
"Wasn't part of the aim of a liberal education to mold students into well-informed, curious citizens with wide skill sets? To know a little of everything with a hunger to learn more," Rick asks.
And as farmers, the Osofskys are always continuing their education. They're constantly being schooled in natural history, ecology, soils, seasons, wildlife, animal husbandry, land use as well as sociology and psychology.
"President Roth once said that the most important gift acquired from a liberal Wesleyan education was how it helps you discover what it is that you really love. Kate and I both believe this is a reason that we returned to the farm. It's what we love to do."