Photography, Taiwan, King Lear Topics of Fall 2012 Lifelong Learning Courses

This fall, Wesleyan's Institute for Lifelong Learning will offer courses on 20th-Century Photography, the paintings of Paul Cezanne, ethical eating practices, Shakespeare's tragedy King Lear, promoting healthy psychology, Scandinavian culture and more.
The third year of courses begins Sept. 6 and most take place at the Susan B. and William Wasch Center for Retired Faculty at 51 Lawn Ave. in Middletown.
"Our objective is to use the talents of retired faculty members and current members of the Wesleyan faculty, plus others in our community who are similarly qualified, to present a set of short, intellectually stimulating and lively courses to area residents," explains Karl Schiebe, director of Wasch Center for Retired Faculty.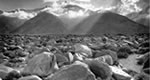 These courses are offered at minimal cost, are not part of a degree-granting program, and are designed to offer topics of particular interest to members of the Wesleyan and local community.
In the course, "Picturing America: Highlights of 20th Century Photography," students will discuss Alfred Stieglitz's promotion of art photography from photo-secession to modernism, the f/64 group including Ansel Adams, and street photography of the 1960's and 1970's by Garry Winogrand and others.
In the course "All About Food: Enlightened Eating," Wesleyan's Executive Chef Brian Dagnall will explore the dynamics of food selection (shopping), food preparation (cooking), and food consumption (eating). Each class meeting will include a lecture/discussion component, cooking demonstration and food tasting.
And in "King Lear," Gay Smith, professor of theater emerita, will look into three modern screenings of the play and question, "How does Lear, a character from Celtic Britain's pagan past, speak to us today? Do the play's terrifying scenes of war and torture parallel ours? Or is it the tale of a father who fatefully misjudges the children he wants to rely on in his retirement, that haunts us?"
Enrolled students will have access to the academic resources of Wesleyan including Olin Library. Classes are conveniently scheduled in the afternoons and early evenings.
The Fall 2012 classes are listed below. Click on the course title for more information.
For more information on WILL or to register, see this link.