MacLean '14 Helps Ill Children, Supports Students with Disabilities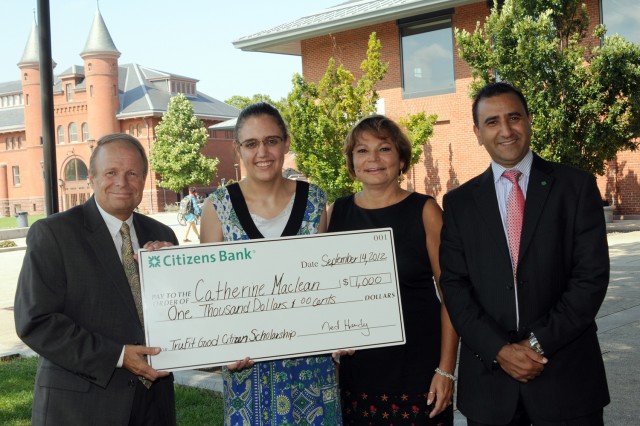 Q&As with outstanding students is an occasional feature of The Wesleyan Connection. This issue we speak with Catherine MacLean from the Class of 2014.
Q: Catherine, what are you majoring in at Wesleyan, and why?
A: I am a biology and science and society double major. I have been fascinated by biology for quite a long time, so I was pretty sure I wanted to study it when I came to Wesleyan. I am very interested in the way that such basic low-level structures can combine synergistically to give rise to an organism and the complexity of life. The combination of elegant simplicity and endless complexity in biology is really interesting to me. Once I got to Wesleyan, I stumbled upon the Science in Society Program and found that it was a perfect combination of my love of science and social science. In the same way that context is key in studying cells and systems in biology, the context of the historical, political and social conditions in which science is done is key to studying science.
Q: You recently received a $1,000 scholarship from Citizen's Bank TruFit Good Citizen Scholarship program for your efforts with the Hole in the Wall Gang Camp in Ashford, Conn. What is your role with the camp?
A: The Hole in the Wall Gang Camp is a summer camp and year-round center serving children with serious illnesses and their families. In the summer, there is a summer camp program that allows kids with sickle cell disease, HIV, cancer, metabolic and mitochondrial disease, and blood disorders to attend a traditional overnight summer camp.
I've been involved at camp for a number of years. I've helped out at fundraisers and events held at the camp, and volunteered at both summer and weekend camp programs. My freshman year at Wesleyan, I hosted the camp leadership for an information session at Wes so that other students could get involved. This led to several students volunteering or working at Hole in the Wall and associated SeriousFun Children's network camps.
I love working at camp. It is an incredibly positive and friendly community where I have made fantastic friends. Being able to provide support, fun and relaxation to parents and children who really need it is very important work to me. 
Q: At Wesleyan, you're also involved with the Wesleyan Students for Disability Rights. When did you get involved?
A: Wesleyan Students for Disability Rights (WSDR) is a student group founded in the fall of 2008 that works to bring disability and accessibility issues into the conversation about social justice at Wesleyan. I got involved in the winter and spring of my freshman year, and I have been heavily involved ever since. My work at camp and my work through WSDR are interrelated–both are very focused on seeing people as people first, and finding ways to be universally inclusive. I've had a bit of an activist bent since I was a little kid–I wanted to run for president when I was 9, that year–and I love being able to make change at Wesleyan. One of the best things about Wesleyan is how student-driven everything is; you really can make things happen and make change here. WSDR has gotten statements on syllabi about accommodations in class, we're piloting a low-sensory eating space, and we started the new disability studies course cluster that Wesleyan now offers. I've met first-year, visiting, and transfer students who came to Wesleyan at least in part because of our programs in this area.
Q: This summer, you interned at the Beth Israel Deaconess Medical Center in Boston. What did you study and how does it relate to your academic interests at Wesleyan?
A: My internship this summer was in the lab of Dr. Konstantin Khrapko, who is studying mitochondrial DNA mutations and their possible connections to the aging process. Because of the evolutionary mechanism by which we acquired mitochondria (they were originally independent bacteria our cellular ancestors swallowed up), they have their own DNA. This DNA provides the code to create proteins that function in the mitochondria's essential metabolic processes.
I originally became interested in mitochondria research from my work at camp with children who have mitochondrial disease. In the lab, everyone was very patient as I learned, and I mastered really important skills like DNA gel electrophoresis and PCR, which is sort of like a copy machine for DNA. We managed to generate some very interesting data about which types of mutations are most common in certain areas of mitochondrial DNA, and hopefully that will lead to more knowledge about how mtDNA might play a role in the aging of our cells and our bodies.
Q: During athletic contests, you're cheering on the student-athletes in the Cardinal Players Pep Band. What instrument do you play and how long have you been a musician?
A: I absolutely love Pep Band! I play the clarinet, and I've been playing since I was in fifth grade. In Pep Band, I can combine my love of music with my love of Wesleyan. We often have President Roth join us in the stands to cheer on the football team (and disagree with the refs' calls). The Pep Band also has a strong tradition of welcoming alumni to play with us at games. We've had alumni from a whole range of class years join us in the stands, and some former professors as well, and they have been a fantastic source of support and a great connection to the broader Wesleyan community.
Q: What else are you involved in at Wesleyan? How do you find time for it all?
A: Classes, Pep Band, and WSDR are my main commitments, but I often attend events held by Wesleyan's Women in Science group. It's a great chance to get advice on classes from peers and to learn about what other people are doing in the sciences. I've had a bunch of different jobs on campus, including being a tutor through the Deans' Office and a student note-taker for Disability Services. Currently I'm a monitor in the microforms center in Olin library and a TA for introductory biology. I've also taken yoga classes through Wesleyan's student-run exercise collective, now called WesBAM.
Since I was a Peer Advisor for New Student Orientation this year, my answer for "how do you do it?" is, of course, time management. I make schedules and to-do lists galore. I also find that having passion for everything I do helps my work enormously. When I am excited about it, it doesn't feel so much like work. I use kitchen timers to keep myself on track with studying, and also make sure to schedule time for friends, favorite TV shows, and goofing off. I also have had to learn how to say "no."
Q: What are your other hobbies and interests?
A: My hobbies are reading and writing, cooking and crafting with my apartment mates, and watching YouTube videos. I also enjoy climbing trees and teaching my friends ridiculous dances that I've learned at camp.
Q: Do you have any post-Wesleyan plans?
A: Nothing is decided yet, and I'm glad I have another couple years to figure it out, but I have a lot of possibilities. Right now I'm leaning towards public health because it seems like a great combination of my love of biology, medicine, science, social science, people and teaching. I'm really interested currently in how the training of medical professionals informs the way medicine is practiced and administered in our society, and where that education might be lacking, such as in the psychological effects of illness. I feel very fortunate to be getting such a great education through everything that I'm doing, so my options are pretty wide open at the moment.