Gruen's Book Offers Readings on Environmental Ethics, Philosophy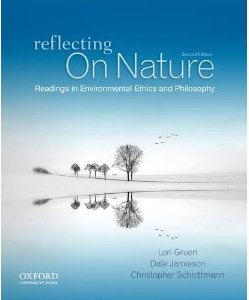 Lori Gruen, professor of philosophy, environmental studies, and feminist, gender and sexuality studies, is the co-editor of Reflecting on Nature Readings in Environmental Ethics and Philosophy, Second Edition, published by Oxford University Press, August 2012.
Spanning centuries of philosophical and environmental thought, Reflecting on Nature: Readings in Environmental Ethics and Philosophy, will inform and enlighten students while also encouraging debate. The comprehensive collection presents 50 classic and contemporary readings on the intellectual climate and patterns of environmental concern.
The selections are topically organized into sections on animals, biodiversity, ethics, images of nature, wilderness, aesthetics, climate change and food. This thematic organization, in combination with coverage of current environmental issues, encourages students to apply what they learn in class to real-life problems.
Featuring insightful section introductions, discussion questions, and suggestions for further reading, Reflecting on Nature, Second Edition, is ideal for use in environmental philosophy, environmental ethics, and environmental studies courses.