Students, Alumni, Friends Gather at Homecoming/Family Weekend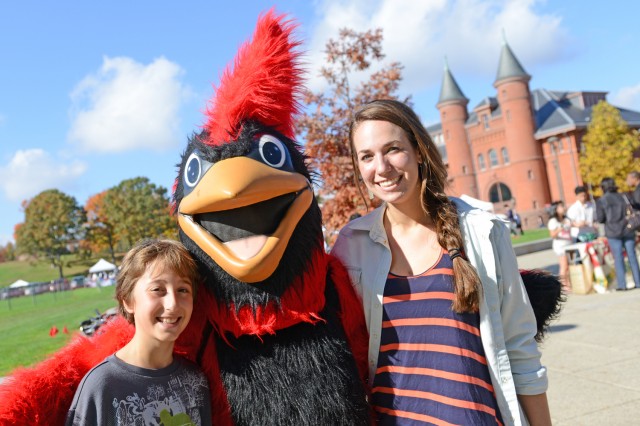 For Robert Nelson P'16 and Jean Fujisaki P'16, nothing means more to them than time with their son, Ryden '16. During Wesleyan's Homecoming/Family Weekend Oct. 19-21, the parents, who visited from La Jolla, Calif. caught a glimpse of Ryden's new home-away-from-home.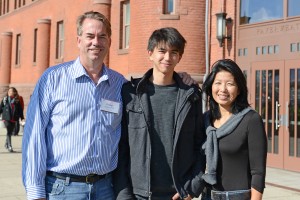 During their short visit, Nelson and Fujisaki attended Ryden's Japanese class, a general physics lecture, a comedy show, mingled with his new friends and watched bits of the Homecoming football game Oct. 20.
"Family Weekend has given us a better sense of what Wes is about," Nelson said, sitting with his family outside Fayerweather on Saturday morning. "We've enjoyed going to Ryden's classes so we learn more about the educational process here, and so far we've been very impressed with the teachers, the lectures and the small class sizes."
Ryden's family was one of 2,000 alumni, parents and guests who attended Homecoming/Family Weekend events. More than 4,500 people attended the homecoming football game against Amherst College.
Iris and David Berkman '16, of Amherst, Mass., visited campus to see their daughter, Maya '16. Maya's brother, Nadav, and her best friend, Cora, also visited for Homecoming/Family Weekend events. The family attended the soccer, field hockey and football athletic contests.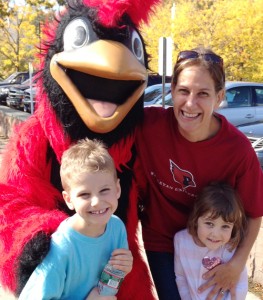 "Being from Amherst, we're not sure who we should root for," joked mother Iris. "Of course we're rooting for Wes!"
Homecoming/Family Weekend is designed to celebrate some of the best and most enjoyable aspects of life at Wesleyan. It brings people together from across Wesleyan's extended community—including students and their families, faculty, and alumni—to enjoy an array of academic, cultural, and athletic events. Students' families gain a sense of the undergraduate experience by sitting in on regularly scheduled classes, attending WESeminars, and by meeting faculty and administrators in both academic and social settings. Alumni reconnect with Wesleyan and with each other at a host of special seminars and social gatherings.
Other major events included a community bike ride, department and room dedications, fraternity reunions, an alumni and student of color celebration, campus tours, the Stone A Capella Concert, the Dwight Greene Symposium, the Where on Earth are We Going symposium, a Donor Associates Reception, an All-College Dinner, and much more.
Kira (Markiewicz) Fabrizio '97 and her husband Dan Fabrizio '95 (a former Wesleyan Cardinal football player) returned to their alma mater on Oct. 20 for the homecoming game. They arrived early to get a good tailgating spot for the game and mingle with Wesleyan friends.
"It was a fabulous day to be back at Wes," says Kira, of Beverly, Mass. "We took the kids to all kinds of sporting events, rolled down the hill, and enjoyed the sun and good friends."
Photos of Homecoming/Family Weekend 2012 are below. The full photo gallery, which includes photos of several dedications and WESeminars, can be found on Wesleyan's Flickr site.