Wesleyan Named "Most-Vegan-Friendly College"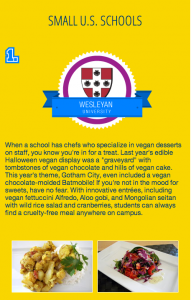 Peta2 selected Wesleyan University as the 2012 "Most Vegan-Friendly College" in the small U.S. schools category. Wesleyan also won the contest in 2009.
Tens of thousands of students nationwide voted for the nominees.
According to Peta2, the number of vegan college students has more than doubled nationwide since 2005, and it only continues to rise as students learn about the routine abuse that animals face when killed for food.
"When a school has chefs who specialize in vegan desserts on staff, you know you're in for a treat," Peta2 reported on Wesleyan's dining options. "This year's (Halloween dessert) theme, Gotham City, even included a vegan chocolate-molded Batmobile! If you're not in the mood for sweets, have no fear. With innovative entrées, including vegan fettuccini Alfredo, Aloo gobi, and Mongolian seitan with wild rice salad and cranberries, students can always find a cruelty-free meal anywhere on campus."