Fellow Pellegrino '12 Encourages Wesleyan Community to Become Civically Engaged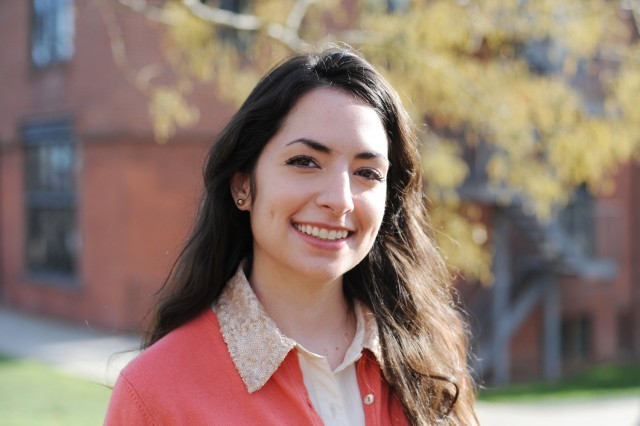 Q: Dana, you're Wesleyan's first Civic Engagement Fellow. How do you describe your role?
A: As the Civic Engagement Fellow, I focus on promoting civic engagement throughout the entire university, with students, faculty and staff. While the focus may be broad, I mainly work with two specific centers: the Center for Community Partnerships, under Director Cathy Lechowicz, and the Patricelli Center for Social Entrepreneurship, under Director Paul Gagnon. At CCP, I'm primarily involved in informing students about the many opportunities for immediate impact here in Middletown, and in assisting student coordinators of the Office of Community Service's programs. We're also developing ideas for tapping into other networks and social media platforms to increase awareness and communication among CCP, students, and the Middletown community. With the Patricelli Center, I help students with more global-minded engagement, including opportunities for grants, workshops in entrepreneurial skills, and networking with alumni. Both offices offer an incredible amount of resources.
Q: What are some recent ways you're helping Wesleyan students become "civically engaged?"
A: Just before Thanksgiving, my director, Cathy, and I rounded up students from all different groups on campus — fraternities, athletic teams, program houses — to assist in the Middletown Community Thanksgiving Project. Students came by throughout the day to help assemble Thanksgiving Dinner baskets for over 500 families in our community. Not only were Wesleyan students presented with the opportunity to civically engage in combatting food insecurity, but they were also presented with the opportunity to work as a team with members of the greater Middletown community.
Q: During your undergraduate years at Wes, were you involved in any civic or extra curricular activities?
A: Two of my main extra-curriculars were serving on the American Studies Majors Committee and working as a Process Advisor for those appearing before the Student Judicial Board. For me, American Studies at Wes was significantly enhanced by the opportunity to learn local history. The story of Middletown touches many if not all of the chapters in our country's history, including those most painful, as well as those of progress, and I thought it was important to show other students the academic value of connections between the campus and the greater community. As for the SJB, helping students understand its process was especially important; it makes that unavoidably fearful process and its results fairer.
Q: Why would, or should, Wesleyan students get involved with the Office of Community Service/Center for Community Partnerships?
A: This year we are emphasizing to students that community engagement comes in many forms. Although we encourage longer-term commitments, we understand that students have intense schedules. Students should volunteer with us because in all honesty, our education is incomplete without awareness and acts of social responsibility. Despite our extensive outreach, when I speak with current undergraduates there is sometimes still confusion over what CCP's role is —I like to regard this as a sign of students wanting to get involved but not knowing how to start. Among its services, CCP (through OCS) has nearly 20 student-run programs, including tutoring for Middletown students, pen pal-ing with seniors at One MacDonough Place, and maintaining local parks. We just want to drive home that even a one-time, one-hour commitment makes a difference.
Q: What are your hobbies and interests?
A: As a former prep chef for the Star and Crescent Eating Club, my roots are in cooking and food services. I have always worked in restaurants, whether in the kitchen or on the floor, so I try and keep my culinary skills fresh, more as a hobby now.
Q: When your fellowship concludes, what are your plans?
A: I am currently applying to law schools in hopes of practicing in the public sector, either in juvenile justice or special education law. In the meantime, I'm grateful for the experience of meeting so many members of the Middletown community and for all that I'm learning about what it takes to deepen and strengthen, on all sides, the communication and relationships necessary for the best outcomes.
#THISISWHY