C-CERT Team Trained to Assist Wesleyan Community in Disaster Situations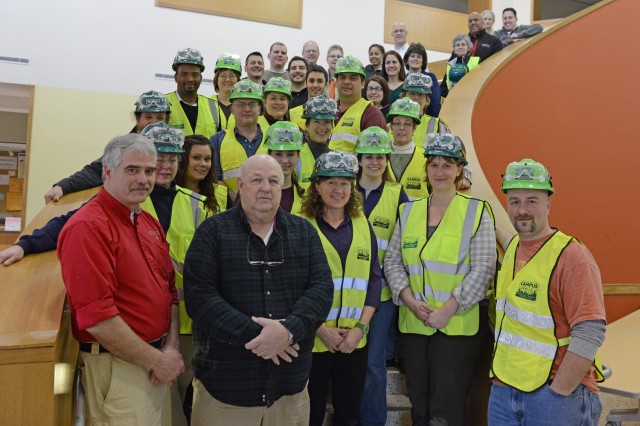 On Jan. 11, a small explosion in Usdan University Center's mechanical room left several staff and students trapped inside with possible injuries.
"We've got a situation," says Bill Nelligan, director of environmental health, safety and sustainability. "Please gather your gear and head to the basement."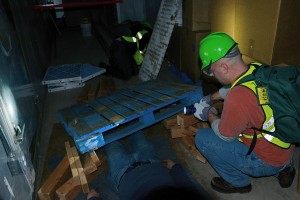 A group of six Wesleyan staff members, trained in light search and rescue techniques, quickly prepare for the task. They sport reflective vests, safety helmets, goggles and gloves, and carry a backpack equipped with flashlights, duct tape, first-aid kits, tools and blankets.
Team leader Allen Alonzo, associate director of information technology auxiliary services, breaks the team into pairs, or "buddies," and coaxes the group into the dark mechanical room. He instructs the team to move towards the left and keep one hand on each other's shoulder.
"Hello, this is Wesleyan's Emergency Response Team. Can anyone hear me," he shouts.
"Help me. Help! I'm trapped," yells a male's voice.
"I'm here," says another, muffled by cement walls and obstructions.
Although this was a mock disaster scenario used for training purposes, the members of Wesleyan's Campus Community Emergency Response Team (C-CERT) treated the disaster simulation with all seriousness. Within 13 minutes, Alonzo's team discovered four injured victims in the mech room, all with different medical needs. The team treated the victims for shock, bleeding, airway obstruction and used a levering and cribbing method to safely release another trapped victim. Fellow C-CERT members played the role of victims.
"Had this been a real disaster, our Wesleyan CERT team would be ready to assist," says recent C-CERT graduate Trish Holycross, administrative assistant in University Relations. "The training program taught us several valuable skills that we can use to help our campus community, home community and family. Hopefully we'll never have a disaster situation where we'll need to be deployed, but if so, we are prepared."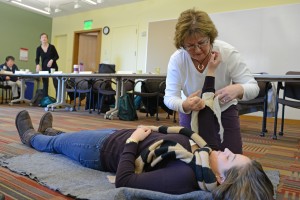 The C-CERT training spanned three days and offered several classroom and hands-on lessons to ultimately prepare team members for a similar disaster. They studied medical operations, triage, search and rescue, fire suppression, disaster psychology, levering and cribbing and dealing with terrorism. The training program supplied the team with equipment and one MRE (Meals Ready to Eat) during a working-lunch.
"If we were at a situation, you might be handing these out to victims. You should try one first, just to know what you're dealing with, and believe it or not, they're quite good," Nelligan says.
During the training, participants received two certificates from FEMA's Emergency Management Institute after mastering the Incident Command System and command operations; and an additional certification from CERT after completing the 20-hour basic training course. Wesleyan's CERT members have the option to take supplemental training in animal response, emergency communication, leadership, traffic and crowd management, flood response, firefighter rehab and more.
"Right now we have about 38 Wesleyan faculty, staff and students on the C-CERT team, and I'd encourage anyone in the Wesleyan community to consider joining," Nelligan says. "The bigger our team can get, the better we can assist the Wesleyan community."
CERT was originally developed by the Los Angeles Fire Department in response to earthquake disasters and later adapted as an "all-hazards" course. Anyone interested in becoming a C-CERT member should e-mail Bill Nelligan at wnelligan@wesleyan.edu. For more information on CERT, visit this website.
View more photos of C-CERT training below or in this Wesleyan Facebook photo gallery.