Filmmaker, Educator to Deliver Keynote at MLK Day Celebration Feb. 1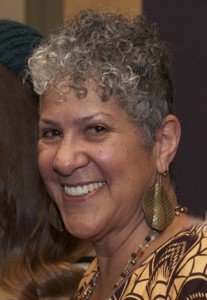 Dynamic filmmaker and educator Shakti Butler will be the keynote speaker at Wesleyan's Martin Luther King, Jr. celebration on Friday, Feb. 1. "Diversity University: From Theory to Practice," is the theme of this year's daylong commemoration.
Butler, a prominent speaker on racial equity, is the producer of documentaries including The Way Home; Mirrors of Privilege: Making Whiteness Visible, and Light in the Shadows. She is frequently hired by companies seeking a catalyst for change and uses audience participation and often, clips from her films, in her public appearances.
A multiracial African-American woman (African, Arawak Indian and Russian-Jewish), Butler has worked as a bridge-builder and educator for more than 20 years.
Butler received her doctorate from the California Institute of Integral Studies in the School of Transformative Learning and Change. She holds an M.A. in guidance and counseling from Bank Street College of New York and graduated magna cum laude from City College of New York.
Her address, at 3:15 p.m. in Memorial Chapel, caps a day of workshops on racial identity and privilege and screenings of two of Butler's films, including her newest, "Cracking the Code: The System of Racial Inequality." Learn more about these events and Wesleyan's celebration of Martin Luther King, Jr. on this website.