Middletown's Architectural Heritage Special Spring 2013 WILL Course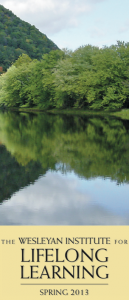 This spring, the Wesleyan Institute for Lifelong Learning (WILL) will host courses on opinion writing, Shakespeare's history plays under Elizabeth I, the basics of personal finance, experiencing eldership, exploring the Housatonic Valley and Middletown's architectural heritage.
Now in its fifth semester, WILL's objective is to use the talents of current and retired faculty and qualified community members to present a set of short, intellectually stimulating and lively courses to the Wesleyan community and area residents. These courses are offered at minimal cost, are not part of a degree-granting program, and are designed to offer topics of particular interest to members of the community.
A special feature for this coming semester is an all-day class on "Middletown's Architectural Heritage." The program will include lectures by Joe Siry, the Kenan Professor of the Humanities, professor and chair of the Art and Art History Department. Local architects Alain Munkittrick and Jeff Bianco will offer a a guided tour of some of the major architectural treasures at Wesleyan and in Middletown.
"We are fortunate to have local experts in the field or architecture who can enable us to see the significance and value of the remarkable treasures we drive by every day. They will serve to open our eyes and enrich our understanding of our surroundings," said WILL director Karl Scheibe.
More information on the other Spring 2013 courses can be found at the links below:
Enrolled students will have access to the academic resources of Wesleyan University, including Olin Library. Classes are conveniently scheduled in the afternoons and early evenings.
Classes cost between $70 and $125. Register for a course online here. For more information, contact Amy Bello at 860-685-3005 or by e-mail at abello@wesleyan.edu.