Student-Athletes Breaking Wesleyan Records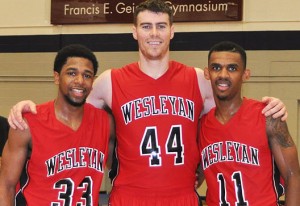 For the first time in men's basketball history at Wesleyan, three members of the same class are 1,000-point scorers. All-time leading scorer Shasha Brown '13 has 1,745 points; Mike Callaghan '13 finished with 1,175 career points to rank sixth; and Derick Beresford '13 ranks 18th with 1,055 points. Brown, who averaged 18 points a game over his career, also will graduate as the Cardinals' all-time leader for assists (393) and free throws made (438).
During the New England Division III Women's Indoor Track Championships at Southern Maine, Sierra Livious '14 set a Wesleyan record in the shot put with a toss of 42-10 1/4 while Alexis Walker '16 broke the school mark in the long jump, clearing 18-4 1/2, besting the previous record set in 2002 by more than a foot.
Angela Slevin '15 was part of seven Wesleyan record-setting performances during the NESCAC Women's Swimming and Diving Championships at Bowdoin. She rewrote all three backstroke marks – :27.13 in the 50, :57.61 in the 100 and 2:03.05 in the 200 – while placing among the top five in all three events. She also helped the 200 medley relay, the 400 medley relay, the 400 free relay and the 800 free relay all set Wesleyan standards.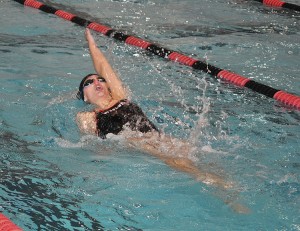 Ice hockey player Keith Buelher '13 led the NESCAC in scoring during the regular season with 37 points on 19 goals and 18 assists and has been named a semifinalist for the Joe Concannon Award, presented annually to the top Division II/III American-born men's ice hockey player in New England. Buehler has posted more points in a season than any Wesleyan player in 12 years.
Also, the wrestling team, behind four outstanding seniors, closed out the season with a 15-7 dual-match record and is ranked 11th nationally in Division III. Each of the team's seven losses has come against a team ranked in the top-10. Nick Scotto '13, at 141 pounds; Howard Tobochnik '13 at 149 pounds; Kyle Roosa '13 at 174 pounds; and Jefferson Ajayi '13 at 184 pounds, combined for a dual-match record of 77-11. Scotto leads the nation in overall pins with 19.