Cruz Teaches, Promotes Fire Safety at Wesleyan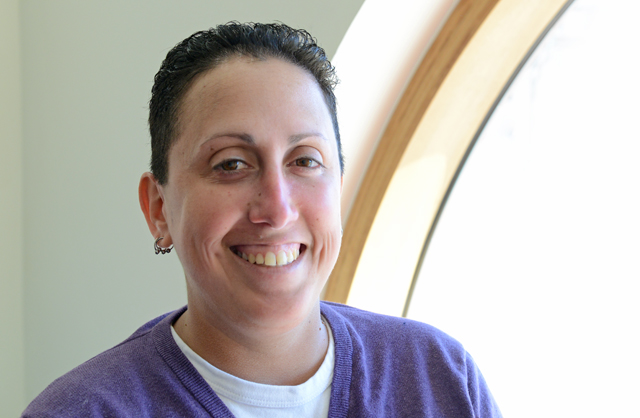 Q: Chris, you're the new manager of fire safety and facilities administration for Physical Plant – Facilities. When did you come to Wesleyan and what were you hired to do?
A: I began here as an intern on the renovation of Clark Hall in 2001 working for Lee Kennedy Company. I became a full-time employee at Wesleyan in April 2003, hired as an assistant facility manager for student life facilities.
Q: How has your role changed over the years?
A: My role has changed several times here at Wesleyan. My career started as an assistant facility manager; from there I became the manager of customer service from 2004 – 2005 and was part of implementing SchoolDude, Physical Plant's work order system. Then I was a safety coordinator from 2005 – Nov. 2012. From that point, I started in my new role, which, in a way, incorporates all of the different roles I've had at Wesleyan into one. Some of my job changes had to do with the reorganization of the facilities department and other changes occurred as I became more experienced. My job responsibilities have grown.
Q: As manager of fire safety, do you oversee all buildings on campus?
A: I do oversee all buildings on campus, but I focus a little more on student housing because the risk factor is greater due to behavior, cooking experience, and overall number of students living in a building/house. All together Wesleyan has more than 300 buildings, including all of the wood frame houses.
Q: Do you teach faculty/staff/students about fire safety as well? How does Wesleyan promote fire safety?
A: There are a number of things I do to try to teach fire safety. I conduct training with all Res Life staff (House managers, RAs, etc.), and I offer fire extinguisher training for everyone on campus. We usually set up outside of Usdan when weather permits and whoever wants to try it can be trained right then and there. I also do fire extinguisher training with all CERT members, which include staff, faculty, and students from all over campus. In addition, I teach fire safety seminars for students who receive fire safety violations. Taking these seminars helps students get a credit towards their fines. Wesleyan promotes fire safety with various events throughout the year like the Public and Life Safety Fair – the Middletown Fire Department brings in their smoke trailer for anyone to try.
Q: Are all Wesleyan facilities equipped with fire alarms, sprinklers and fire extinguishers? If a fire breaks out in a Wesleyan building or residence, how should one react?
A: Not all buildings on campus are equipped with sprinklers but many of them are and the number increases every year as more projects are completed. Ninety percent of the buildings have some type of alarm system and the other 10 percent have local smoke detectors like people would have in their own homes. All of our academic and administration buildings, and undergrad housing are equipment with fire extinguishers. If a fire breaks out, the first thing you should do is get out of the building, activate the alarm by pulling the pull station (if there is one) as you are exiting, and once safely out of the building call Public Safe and/or 911 to report the fire. Don't try to fight the fire; leave that up to the professionals.
Q: What is Wesleyan's/your relationship with Middletown Fire Department?
A: Our relationship with the fire department is very good. The MFD and I work very closely conducting inspections, fire drills, and training whenever possible. They are a great group of people who really do care about the wellbeing of others. I may be a little biased because my uncle was a captain for the Cross St. firehouse before he passed away in the line of duty back in 2006, but honestly I couldn't ask for a better group of people to work with. In the event of a fire they do respond directly to the scene and can usually be there in less than three minutes. It helps that they have two fire houses less than a mile from campus.
Q: What is a typical work day for you?
A: My work day really depends on which part of my jobs needs to take precedence. If there are fire safety concerns, those top the list. When I am doing work related to fire safety, I will be out of the office a majority of the day. When it comes to fire safety, you really need to be in and out of the buildings as much as possible to be looking at what is happening and if there are any safety concerns that should be addressed. I do rely on everyone in the facilities department, as well as everyone on campus, to be other sets of eyes and ears for me and report anything that they feel is unsafe or a concern and needs to be addressed.
Q: What are the biggest challenges in keeping a campus like Wesleyan safe?
A: I feel the biggest challenge is making people understand why we do certain things. Why is it unsafe to have a candle or to smoke in their rooms? Why do we conduct room inspections? Why do we make sure the buildings are equipped with fire alarm systems? The simple answer, for me, is that my job is to make sure everyone is safe here on campus. There have been 82 documented fatal fires that have occurred on college campuses, in Greek housing or in off-campus housing within three miles of campus–claiming a total of 119 victims–since January 2000. It's hard to get that message across because I find that people have an "it will never happen to me" mindset. I've learned through experience that it can happen to you and it's usually when you least expect it.
Q: Where did you attend college and what did you major in?
A: I attended Wentworth Institute of Technology in Boston, Mass. and I have my bachelor's degree in facilities planning and management. I was born and raised here in Middletown, Conn.
Q: What are your hobbies and interests?
A: I have lots of hobbies: I play indoor soccer, I have played softball since I could walk, and I coach and have run a women's softball league for the past 10 years. I love animals. I volunteer at a local cat shelter called Catales, and Tara (my fiancé) and I have three cats and three dogs at home. My partner Tara and I recently have become engaged, and now my hobbies are looking at wedding venues, interviewing caterers and picking out wedding favors.