Wesleyan Team Represents USA at Racketlon World Championship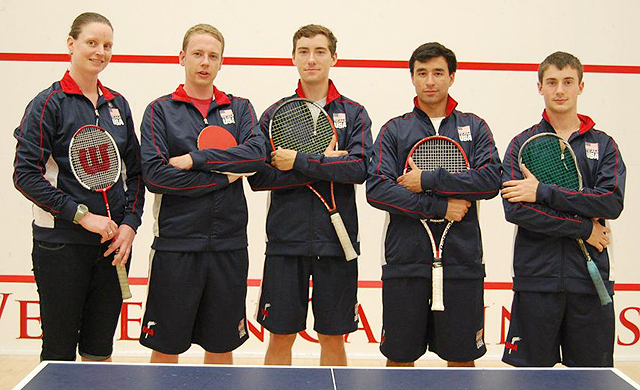 What do you get when you cross Wesleyan student-athletes with four racket sports? The answer: the first American team to represent the U.S. in racketlon!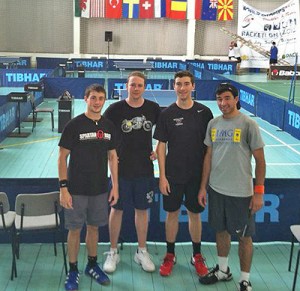 In racketlon, a player challenges his/her opponent in each of the four biggest racket sports: table tennis, badminton, squash and tennis. The sport is a cousin of the triathlon and decathlon. Each team plays their opponents in all four sports.
Shona Kerr, head squash coach teaches racketlon at Wesleyan and coaches the Wesleyan team. Last summer, Wesleyan team represented America in the Racketlon World Championship in Sofia, Bulgaria. They placed 11th overall.
Team members included Ethan Moritz '14; Maxwell Bevilacqua '12, a fellow for the Russell House and Shapiro Creative Writing Center; Robert Troyer '12; Tim Schade of Philadelphia, Pa.; and Katrin Maldre, who received her Ph.D. from the University of Chicago in 2012.
Moritz plays on the Wesleyan men's squash team, and Troyer is a former men's tennis team captain.
Although other universities offer "Introduction to Racketsports" or "Racketsports" courses, Kerr may be the only faculty in the country teaching racketlon specifically. Her Wesleyan course begins after spring break and introduces students to each of the four racketsports and how to play them in combination within the sport of racketlon. As a capstone experience, the class will play both a singles racketlon and a doubles racketlon.
"It was pretty neat to have two members of the class, and a member of the men's squash team, be part of the very first USA racketlon team that competed in Bulgaria," Kerr said.