A Good Night for Wesleyan – THIS IS WHY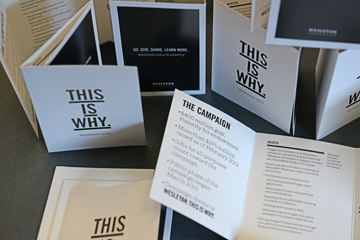 Friday, 7 p.m. March 1. A tide of trustees, faculty, students and staff flowed into Beckham Hall for the Board of Trustees' dinner to a background refrain from the Black Eyed Peas – "Tonight's gonna be a good night."
And a good night it turned out to be, with stirring speeches and rousing dance moves. President Michael Roth officially launched the public phase of Wesleyan's fundraising campaign by celebrating a number of recent gifts, including $3 million from John Shapiro '74 and Shonni Silverberg '76 in support of Wesleyan's writing programs, building on their 2009 gift which established the Shapiro Creative Writing Center.
The campaign for Wesleyan (see the campaign web site at http://thisiswhy.wesleyan.edu/) targets more than $200 million for financial aid, $140 million to attract and retain faculty and support academic programs, and $60 million to support student engagement through internships, research and other programs that enable students to integrate experiences outside the classroom with their academic work.
It's a $400 million campaign, by far Wesleyan's most ambitious ever, and Roth shared his excitement about its momentum. Over the past five years, the campaign in its so-called "quiet phase" has raised more than $283 million. Trustees have provided more than a quarter of that amount, including yet another $1 million gift announced by Roth from Board Chair Joshua Boger '73, P'06, P'09. This gift –one among many he has made to the campaign – comes on the heels of his December pledge (the Boger Challenge) in which he matched every gift of $25 or more with $250 to the endowment in support of financial aid. Even more alumni took him up on his challenge than anticipated, resulting in a total gift to the endowment of $1,225,250.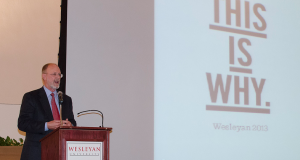 In his dinner remarks, Roth noted that when he arrived as president, Wesleyan was accumulating ambitions and needed a fundraising campaign, but that it was a "scary" time to launch one. He recounted meeting with trustees in 2008, as financial markets were collapsing. The prospect of raising millions for Wesleyan seemed improbable to him, and he admitted being "more than a little impressed" when campaign chair John Usdan '80, P'15 told him not to worry. "It's the perfect time to plan a campaign," whispered this "zen-master of even-keeledness."
Above the podium a giant screen displayed the statement, "THIS IS WHY" – the theme of the campaign. Introduced over the past months through a series of tabloids, "THIS IS WHY" encourages alumni and friends of Wesleyan to affirm their own reasons for supporting the university. As Boger noted in his remarks, "A conventional campaign theme would rely on descriptions that would roll everyone into one statement, and that's not who we are."
Boger also joined Megan Norris '83, P'17, chair of the Alumni Association, in expressing thanks to the many volunteers in the room, calling them Wesleyan's "unsung heroes."
In his remarks, Roth addressed the decision to change Wesleyan's need-blind admissions policy. "It breaks our hearts that we're not need-blind," he admitted. "Make no mistake, I'll defend this decision every chance I get, but it breaks our hearts that we can't just say we don't care about money. We will support scholarships as much as we possibly can, and then we'll raise even more money to support them even more. These will be scholarships that endure because they will part be part of the endowment."
In the middle of dinner, a flash mob "broke out." Students from Precision Dance Troupe stood up from tables and danced their way to the front of the room.
As the dinner was concluding the student dancers returned to loud applause, and performed to the refrain from Beyonce, "Say you'll never let me go." The dancers grabbed whoever was close by – including the President and Board Chair – and brought them into the dance, but within a minute they did let them go. It was time for the Wesleyan fight song, bringing a good night for Wesleyan to a stirring conclusion.
Learn more about the campaign at www.wesleyan.edu/thisiswhy.
View photos of the event in this Wesleyan Flickr album.