Students Co-Curate Local Archaeology Exhibit for Middlesex Historical Society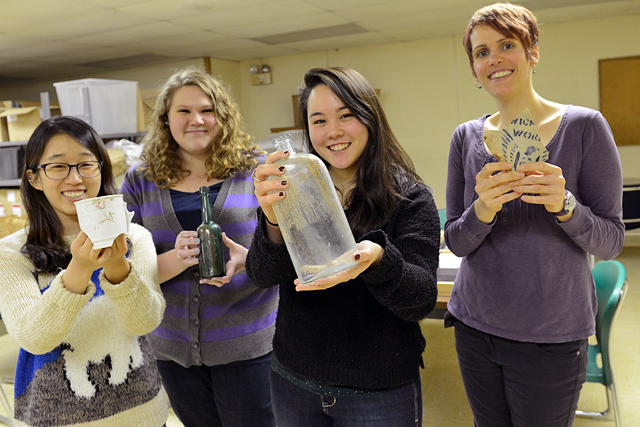 Between Vine Street, Cross Street and Knowles Avenue near Wesleyan, an innocuous looking triangle of land forms the "Leverett Beman Historic District," listed on the State Register of Historic Places and part of the Connecticut Freedom Trail. This area is the site of one of the earliest planned African American communities in the United States.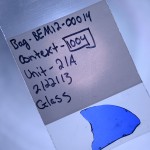 During the spring of 2012, Sarah Croucher, assistant professor of anthropology, assistant professor of archaeology, led an archeological excavation at the "Beman Triangle" site. Several Wesleyan students and community members participated in the dig and unearthed dozens of materials relating to healthcare and everyday practices, such as cooking and dining.
On April 4, Wesleyan will partner with the Middlesex County Historical Society to present an exhibit featuring many artifacts from the excavation. "Unearthing Community: Archaeology of the Beman Triangle" is curated by Croucher and three students: Sarah Chrystler '13, Amy Cao '15 and Hyunjin "Chelsey" Cho '13. Cho is double majoring in art history and economics and has helped curate exhibits at the Davison Art Center and Smithsonian Institution.
"Artifacts from these excavations help to build a picture of daily life in these households during the late 19th century," Croucher explained. "Materials from one of the houses also has provided a range of artifacts which seem to relate to late-19th century pharmaceutical production, opening up conversations as to the nature of healthcare at this time."
Multiple houses dotted the Beman Triangle landscape in the 19th century and were all owned and inhabited by free black property owners. Many homes still stand today.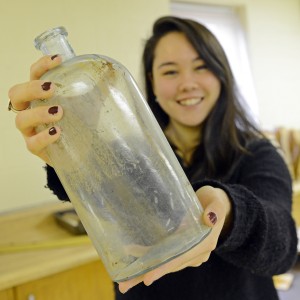 Among the artifacts found at the Beman site are tea cups, an ink bottle, whiskey bottle and several prescription bottles. Chrystler, an archeology and history double major, and Cao, an archeology and anthropology double major, focused their research on the glassware.
One bottle, which was discovered completely intact, was manufactured by Whittal, Tatum & Company, which specialized in glassware for druggists and chemists. An image of the bottle appears in a catalogue from 1880, showing the researchers that it was a "high oval" or "union oval" prescription bottle.
"It's really a fantastic detail to know who made the bottle and when. It helps us to have a much clearer idea of what was going on during this period," Croucher said.
The Middlesex County Historical Society is located inside the General Joseph Mansfield House, 151 Main Street in Middletown.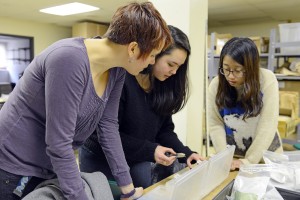 The exhibit will open April 4 with a private reception and remain open until the end of May. Museum hours are 10 a.m. to 3 p.m. Monday through Thursday and from noon to 3 p.m. on the first Saturday of the month. For more information call the MCHS at 860-346-0746. Learn more about the Beman Triangle research project in this Wesleyan Magazine article.
The project is funded by Wesleyan's Deans of Division I and Division II, and the Allbritton Center for the Study of Public Life and the Middlesex County Historical Society. Students interested in community archaeology and learning excavation skills may consider enrolling in Croucher's four-week Summer Session course in June.
Watch a video on Sarah Croucher discussing her community archeology project online here.