April is Earth Month at Wesleyan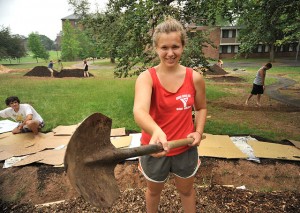 Plant trees, create recycled art, tour a chestnut orchard, work on an organic garden and much more during Earth Month at Wesleyan!
During the month of April, Wesleyan's Sustainability Office is hosting several earth-friendly opportunities. Events begin April 4 with a luncheon discussion on "Waste: Uncertainty, Futurity, and Democratic Engagement" at Woodhead Lounge. The Wesleyan community also is invited to the 6th Annual Global Environmental Sustainability Symposium on Transportation, Human Mobility and Sustainability at Central Connecticut State University the same day.
On April 6, join student organization WILD Wes to plant the berry bushes and herbaceous plantings for the Edible Forest Garden. Planting takes place in the West College Courtyard.
On April 9, Michigan-based folk musicians and environmental activists Samuel Seth Bernard and May Erlewine will participate in a performance and conversation over a vegan dinner for Wesleyan students, faculty and staff. Bernard and Erlewine have been perennial attractions at the Earthwork Collective farm's annual Harvest Gathering, a music festival devoted to local independent artists and responsible, earth-friendly activism. The dinner takes place at Daniel Family Commons.
The English Department will present a panel discussion on "Green English: Nature and the Literary Humanities," in honor of the works and career of William Stowe at 4:15 p.m. April 18. Presenters are Lois Brown, professor of English, professor of African American studies; Stephanie Weiner, associate professor of English; and Courtney Weiss Smith, assistant professor of English.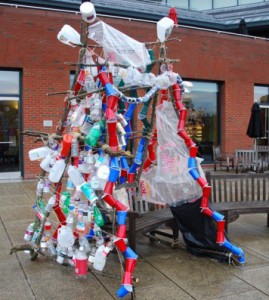 On April 19, view the Recycled Art Competition at the Usdan University Center's Huss Courtyard, and on April 20, join students at Wesleyan's Long Lane Farm to work in the organic garden.
On Earth Day, April 22, Juliet Schor '75, professor of sociology at Boston College will speak on "Treading Lightly on the Earth: the Practice of Plenitude" in the Public Affairs Center. In this talk, Professor Schor will discuss the emergence of "plenitude," a set of new practices, networks and ways of living that emphasize eco and carbon footprint reduction, sharing, self-provisioning, and reduced engagement with the "Business As Usual" economy. Schor will draw on research from a series of case studies across a range of places and communities.
Earth Month events will wrap up with a Sustainable Transportation Think Tank on April 24; the 6th Annual Earth Week Rant on April 25; an Arbor Day tree planting and Earth Day Veg Out on April 26; a North End spring cleaning and WILD Wes work day on April 27; and a Sustainability Poetry Slam and workshop on May 2.
Other Earth Month events include an Environmental Action Conference, Bike Walk Summit, residential waste audits, an Earth Day 5K, a Wild and Scenic Film Festival, Middletown Chestnut Orchard tour and more.
For more information on these events and to register, see the Sustainability Office's web site.