Junger '84 Directs HBO Documentary about Photojournalist Tim Hetherington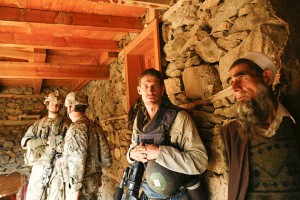 Sebastian Junger '84 has directed a new documentary, Which Way Is the Front Line From Here? The Life and Time of Tim Hetherington, which premiered on HBO this month.
The film covers Hertherington's career as a war photographer, from his earliest days covering the civil war in Liberia to his final days in Misrata. He was killed in 2011 at age 40 in the siege of Misrata during Libya's civil war. Junger pays tribute to Hetherington's video and still photography and how he engaged himself on a personal level with his subjects.
Junger and Hetherington were co-directors of the acclaimed documentary Restrepo, which focused on an American platoon on a remote but extremely dangerous mountaintop in eastern Afghanistan. The film was nominated for an Academy Award for best documentary in 2011.
In a recent interview Junger gave to CBS This Morning, Junger said that when he worked on Restrepo, Hetherington told him that one of the least interesting things about covering war was combat and what Hetherington found more interesting was the emotions out there and the relationships between the men. After he found out about Hetherington's death, Junger decided within an hour that he would no longer cover war–a topic he had covered since the early '90s in Bosnia.
In a review of the HBO documentary in The New York Times, Mike Hale writes: "The new film is a touching tribute … It's consistently animated, though, by Hetherington himself, seen in excerpts from interviews. He's larger than life, with leading-man good looks and a seriousness that's earnest without being annoying. And the real revelation is his still photography… Less interested in chaos and graphic violence than other war photographers, he favored quiet, reflective, classically composed images; among his most celebrated photos was a series of portraits of American soldiers sleeping in their bunks."
Interview with Junger on NPR
Junger talks to WSJ Live [youtube]http://www.youtube.com/watch?v=6Walb_7_w_8[/youtube]