Rommelmann '83 Writes Book of Dark Short Stories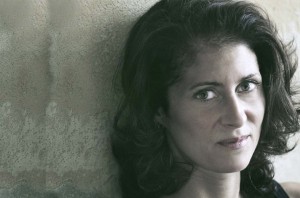 Nancy Rommelmann '83 has released Transportation (Dymaxicon), a new book of short stories. A journalist as well as an author, Rommelmann writes with an unflinching documentarian gaze, focusing on the dreams, delusions, and occasionally criminal behaviors of subjects like serial killers, con men, and homeless teens.
In her new collection, Rommelmann tells stories that lean towards science fiction at points and towards magical realism at others. The opening story, "The White Coyote," is a piece of black humor about a creature injected at birth with human DNA and its shaming at a Catholic grade school gymnasium. In "X-Girl," a woman taunts a butcher and ignores his threats of punishment, while "Balzek" focuses on an artist determined to eat his own body for an exhibition.
Rommelmann is the author of the novel The Bad Mother, about Hollywood's population of street kids, and the memoir The Queens of Montague Street, about growing up in Brooklyn Heights in the 1970s.  Her work has appeared in the LA Weekly, the Los Angeles Times, The New York Times Magazine, and Byliner.