Johnson '15 Tends Wesleyan's Long Lane Farm, Tutors Physics Students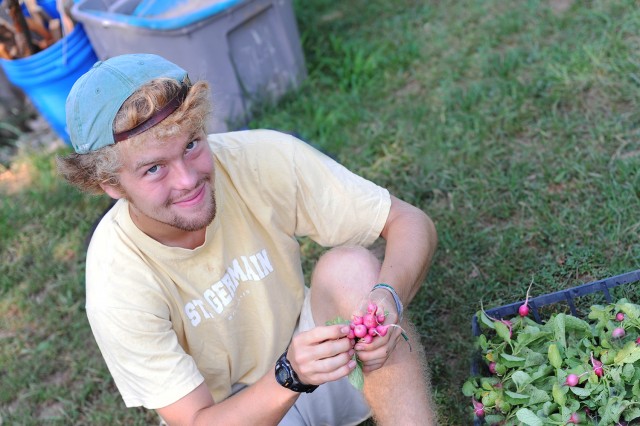 Q: Coady, what are you majoring in and why did you choose Wesleyan?
A: I'm double majoring in astronomy and physics. I had actually never been to Wesleyan before applying, but I had heard very good things from friends, and its reputation for being unconventional was very appealing to me. The clincher though was the very generous financial aid that the university offered me, without which I definitely would not be here.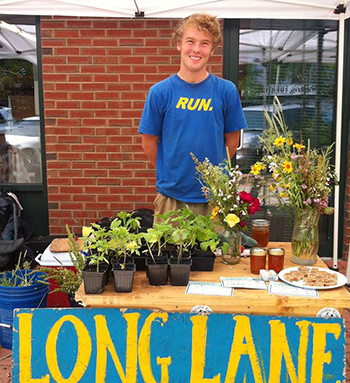 Q: Tell us about your efforts with the Long Lane Organic Farm. Why did you decide to become a student-farmer?
A: After coming to Wesleyan, I fell in with a group of people who really got me thinking about the state of food production and consumption in this country. Industrial farming and a disconnect between what we eat and how it is produced is hurting our well-being, and I think that the best way to remedy that is to educate myself and others on growing our own food in a more responsible and sustainable way.
Q: What is your role with the farm this summer? Please describe a day "down on the farm."
A:  We don't really have set roles, although I often choose to participate in or initiate various building projects, like planning and building our irrigation system. Our day begins at 7 a.m. with a morning meeting at the farm. There, all the people who are working that day discuss plans for work, like whether or not we should companion plant radishes with the squash. We try to be horizontally organized and make decisions only with 100 percent consensus, so that everyone can have a say in what we're doing, and can suggest new ideas if they want. We work until 11, and then have a midday break, during which we eat lunch, run errands and do other work for the farm that can be done in the field, like emails and budget spreadsheets. At 3 p.m., we return to the farm and review what was accomplished in the morning, and then finish up whatever wasn't quite done by lunch. At 7 we close up the shed and gates, and then return home for dinner. Nine of us live in the same house, and so whoever takes the afternoon off cooks dinner for the house.
Q: Who else is working on the farm this summer? Are you looking for new recruits?
A: Laura Cohen '14, Kate Enright '15, Ben Guilmette '15, Josh Krugman '14, Maggie Masselli '16, Anna Redgrave '16, Rebecca Sokol '15, Hailey Sowden '15 and Cat Walsh '16 are all living in Middletown to work on the farm this summer. Whoever wants to help is a farmer, and we're always looking for new people, from Wesleyan or from Middletown at large.
Q: Where are you from? Did you have any farming background or is this all new to you?
A: I'm from Wadsworth, Ill., which is about an hour north of Chicago and 15 minutes west of Lake Michigan. Most of the surrounding area is cornfields, but even so I didn't get involved in farming until coming to Wesleyan.
Q: What does the farm do with the produce that you grow?
A: We give a lot of it to Bon Appetít, the campus dining service, so that they can serve it in the dining hall. Another large portion we take to the North End Farmers' Market in Middletown. Anything we bring to the market and don't sell is then donated to the Amazing Grace food pantry. We also have a new program this year with families in the area called the Middletown Food Project. We have the families over to the farm and teach the children about various aspects of farming and producing food, and also send everyone home with a bag of produce they harvest themselves. And we eat some of it ourselves, of course.
Q: What other extracurricular activities are you involved with at Wesleyan?
A: I tutor other students in General Physics II, and also have a job at the Star and Crescent, helping the head chef prep and serve the meals. This past spring I was in the Spring Dance performance, and I plan on auditioning for other dances in the future.
Q: As a rising junior, do you know what your post-Wesleyan plans might be?
A: After Wesleyan I hope to get my Ph.D. in astrophysics, though I haven't given much thought about a particular institution to attend. After that I plan on applying to NASA in order to be an astronaut. I know it sounds farfetched, especially given the current state of NASA, but I believe strongly in the scientific and societal benefits of manned space exploration, and also have a great personal passion for science, space and discovery.