Cohen's All We Know Shortlisted for PEN Award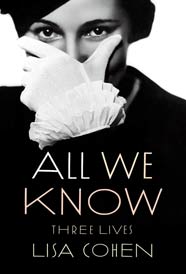 Lisa Cohen, assistant professor of English, was recently shortlisted for the PEN/Jacqueline Bograd Weld Award for Biography for her book, All We Know: Three Lives.
For more than 50 years, the PEN awards have honored many of the most outstanding voices in literature across such diverse fields as fiction, poetry, science writing, essays, sports writing, biography, children's literature, translation and drama. With the help of its partners and supporters, PEN will confer 16 distinct awards, fellowships, grants, and prizes in 2013, awarding nearly $150,000 to writers, editors and translators.
The final winners and runners-up will be announced later this summer and will be honored at the 2013 PEN Literary Awards Ceremony on Oct. 21 at CUNY Graduate Center's Proshansky Auditorium in New York, N.Y.
"We at PEN are grateful for the work writers and scholars like Professor Cohen are doing to advance the study and appreciation of literature," said Cameron Langford of the Membership, Literary Awards and Writers' Fund at PEN American Center.
Cohen's book also was nominated for a 2012 inaugural Plutarch Award for "best biography of the year" and was named a National Book Critics Circle Finalist.