Frank '78, P'12 Funds Writing Certificate at Wesleyan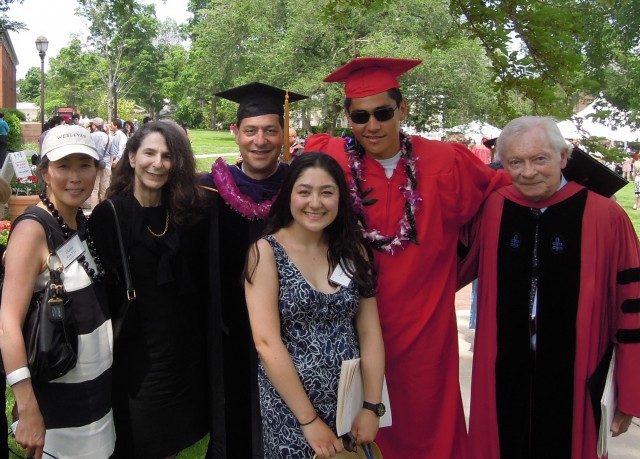 John Frank '78, P '12 believes in the power of a well-written sentence. So much so, he will tell you, that knowing how to write can make the difference between success and failure in life. He will also tell you that he learned to write, and write well, at Wesleyan.
To Frank, a lawyer and investor in California, and his wife Diann Kim P'12, it was critical to ensure continued success for Wesleyan's writing instruction, especially the Writing Certificate launched and overseen by his sister, Anne Greene. Their gift of more than $2 million will fund Writing at Wesleyan's Writing Certificate, which allows students from any major to earn the equivalent of a minor in writing.
"Now that I look back with a 35-year perspective… the thing that I think equipped me was how much writing I had to do at Wesleyan," Frank said. "You can't really write well without thinking well. Wesleyan can do nothing better than to help its kids write."
The former history major, who said his undergraduate prose got better through stringent editing by faculty, wanted the Kim-Frank gift to support expository writing in particular.
"There's typically more support for creative writing, but I was really interested in encouraging writing not just for people who love to write, but those who need the writing to be successful. It does no good to be the best physicist, for example, if you can't describe your work."
Kim said that beyond general support of writing at Wesleyan, she wanted to help her sister-in-law's signature program in particular.
"This gift is a grateful acknowledgement of what a difference Anne has made. I am incredibly impressed by the number of people who tell me that Anne was their life-changing teacher," she said. "With the writing certificate program, I know our support will lead to better writing at Wesleyan and after graduation.''
Greene, director of writing programs, adjunct professor of English, has been at Wesleyan for more than 30 years. She developed the writing certificate to allow students who were not English majors to study the craft, and to her, it's part of a long Wesleyan tradition.
Since the days of Richard Wilbur (the Pulitzer Prize-winning poet who taught at Wesleyan for two decades) students
at Wes have been inspired by writers on campus and a foundational emphasis on writing well.
"This is why we have an amazing curriculum, and this is why we have an enormous number of alumni in writing and publishing," Greene said.
"These new writing programs develop that yearning that students across the curriculum have for learning to write," she said. "The thing that is really unusual about Wesleyan is that there isn't a tremendous divide here between the academic writing and the writing for general audiences. We're trying to make it seamless."
Amy Bloom '76, director of the Shapiro Writing Center, said the alumni support of writing programs reflects strong awareness of the importance of written expression in every field.
"The challenge of writing across disciplines, not as a specialist, is the challenge of writing within disciplines," said Bloom, a novelist, short-story writer and children's book author. "A good sentence is a good sentence is a good sentence."
John Frank seconds that emotion.
"I have a simple view: If people learn to write–and by writing, I mean if people learn to frame an argument in a way that other people can understand–they will succeed," he said.