First Night Football Game in the History of NESCAC to be Played Sept. 21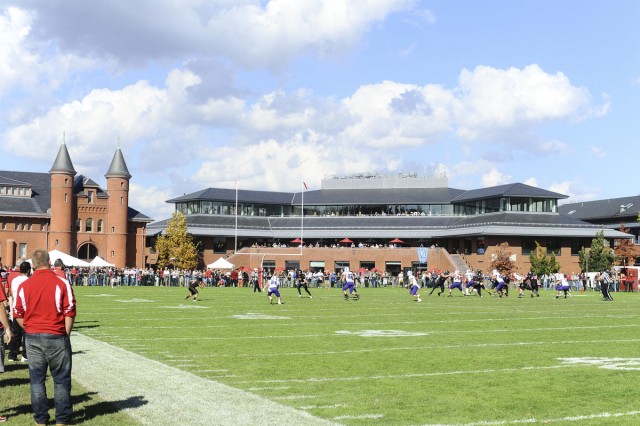 It's not small-town Texas, it's not high school, and the organizers aren't expecting any drama except for the kind that usually plays out on the gridiron; still, let's call it Saturday Night Lights. The first night football game in the history of NESCAC will be played on Andrus Field on Sept. 21.
Wesleyan will host Tufts in the season's opening contest at 6 p.m., with an experienced Cardinal squad facing a Jumbos contingent of returning starters and some strong recruits.
"It's only fitting that the first night game be played on the oldest college football field in the country," said Coach and Athletic Director Mike Whalen '83. "In addition to engaging our students and alumni, we're hoping to attract people from the Middletown area who want to come out and support our team."
Three local players are on the Wesleyan roster this year: Alec Corazzini '16 (Coginchaug High School), Devon Carillo '17 (Middletown High School and Phillips Exeter) and Kris Luster '17 (Xavier High School).
Last year Wesleyan went 5-3, recording its first winning season in 10 years. Tufts posted a 0-8 mark in 2012.
Tickets are available at the game, and are free of charge. Game programs will be sold at the contest for $2 and the game will be webcast.