Interactive WesPartyMap Team Wins Wesleyan Hackathon Challenge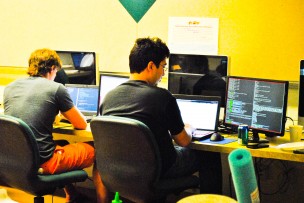 The 2nd Wesleyan Hackathon Challenge took place from noon on Friday, Sept. 6 until noon on Sunday, Sept. 8. Each participating team was provided a 1 GB Linode VPS on which to host their application, which must live and operate without using additional computing resources. While brainstorming and server maintenance were allowed before and after the allotted time slot, all code writing and editing had to take place within 48 hours.
A team of Wesleyan Computer Science alumni judged the submissions and named winners based on creativity (Does the app solve a problem in a novel way? Does it do something unique and new?), technical difficulty (How difficult was the implementation of the app?), and polish (Is the interface aesthetically pleasing? Is the user experience smooth and simple?). The team of judges consisted of Julian Applebaum '13, a software engineer at Squarespace Inc.; Carlo Francisco '11, a software engineer for Groupon; Evan Carmi '13, a software engineer for Brewster; and Jonathan Lyons '12, a software architect at Jaroop.
The winners were announced Monday morning. Sam Giagtzoglou '16, Max Dietz '16, and Jack Lashner '16 comprised the winning team, creating WesPartyMap, an interactive map of where all the parties are happening on campus on any given weekend. This app was also determined to be the most creative app. The first runner up was HalfBagel, created by Tyler Harden '17, Cumhur Korkut '17, Wei Wang '15, and Arthur Burkart '14. HalfBagel offers a view of which rooms on campus are available as students decide where to live during GRS. This app won the judges' vote for best design. The second runner up team of Aaron Plave '15, Brian Gapinski '14, and Justin Raymond '14 created WesHappening, a live map that shows where all on campus events take place.
Read more about the event in this Wesleyan Argus article.