Friends of the Davison Art Center Hosts Online, Onsite Auctions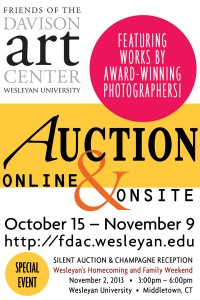 The Friends of the Davison Art Center is hosting its first-ever online auction featuring many pieces of fine art including works by internationally-exhibiting photographers, Wesleyan faculty, alumni and friends. The online auction, supported  by Bidding for Good, runs for three weeks, from Oct. 15 through Nov. 9 and will be accessed at http://fdac.wesleyan.edu.
As part of Wesleyan's Homecoming/Family Weekend the Friends will also host a silent auction and free champagne reception at the Alsop House from 3 to 6 p.m. Saturday, Nov. 2.
"We welcome the public to come get an up-close look at the pieces in the online auction and bid on additional items such as theater tickets, signed books, private tours, one-on-one classes and handicrafts," said Mariah Reisner '04, MA '07, president of the Friends of the Davison Art Center.  "The auction is filled with beautiful, interesting and unique items and your purchase will help Wesleyan acquire new and important works for our collection."
The online auction will feature fine artists including works by photographers Marion Belanger, Jen Davis, Dru Donovan, Joel Wellington Fischer, Curran Hatleberg, and John Lehr as well as Wesleyan faculty Julia Randall, Sasha Rudensky, David Schorr, Keiji Shinohara, Wesleyan alumni including Eli Durst, Lindsay Keys, Daria Lombroso, Juliana Romano, friends Matthew Grubb, Will McCarthy, Peter Waite and more.
The silent auction will include a preview of the works in the online auction as well as additional works by artists including Lee Berman, Connie Brown, Roslyn Carrier-Brault, Michael Danchak, Jackie Etling, Stan Klaneski and Kathy de Mayo. It also will include items such as a family photography session, a one-on-one Alexander Technique lesson, a private yoga class, an original composition, signed books, private tours, Center for the Arts theater tickets, tickets to Long Wharf Theater, gift certificates, handcrafts and more.
Founded in 1962, the Friends of the Davison Art Center includes more than 300 members and is dedicated to supporting the Davison Art Center collection. The Davison Art Center holds approximately 18,000 prints and 6,000 photographs in one of the foremost collections of prints and photographs at an American college or university.