Netsky Ph.D. '04 Selected Among The Forward's 50 Most Influential American Jews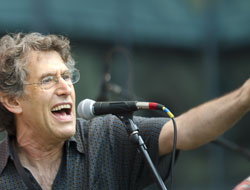 Hankus Netsky, who received a Ph.D. in ethnomusicology from Wesleyan in 2004, has been chosen by the editorial staff of The Forward — a well-respected weekly newspaper covering the Jewish world — as one of the 50 American Jews who have had the greatest impact on the world in 2013, alongside the likes of Harvey Fierstein, Mandy Patinkin and Janet Yellen.
Netsky is the chair of the contemporary improvisation department at the New England Conservatory of Music. He has mentored countless young Jewish musicians, many of whom attended NEC primarily to study with him, and has guided jazz and classical instrumentalists as they expand and evolve the Jewish repertoire to coincide with modern times.
At a recent performance by superstar violinist Itzhak Perlman and cantor Yitzchak Meir Helfgot at Brooklyn's Barclays Center, Netsky was the less-visible but highly influential musical director.
The Forward refers to him as, "a quiet but powerful force affecting nearly every corner of contemporary Jewish music."
Read more about Netsky in this New England Conservatory press release.