Newell '81 Receives Theater Award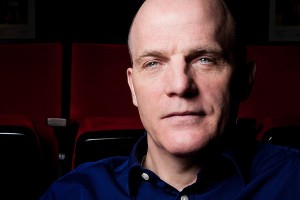 Charles Newell '81 was recently awarded the prestigious Zelda Fichandler Award, which recognizes an outstanding director who is transforming the regional arts landscape through singular creativity and artistry in theater. He received the prize, an unrestricted grant of $5,000, from the Stage Directors and Choreographers Foundation (SDCF).
Over the years, Newell has become one of the nation's foremost theater directors. He is currently in his 19th year as artistic director of the Court Theatre, the renowned professional theater in residence at University of Chicago, where he had directed more than 40 productions.
Newell comments: "To receive The Zelda Fichandler Award from SDCF means the world to me. My very first theatre-going memories are of my mother taking me to Zelda's Arena Stage. The daring theatre she created and produced, the singular artists she championed, the impact her art made on her community: these all have been a beacon of inspiration to me.  For twenty years, I have been fortunate to build a life in the theatre here in Chicago, seeking to follow Zelda's example. I am very proud to be a member of this most vibrant theatre community, and am constantly inspired by our artists and patrons."
Newell has been critically acclaimed for his intimate stagings of great American musicals, and his visionary work as a director has led to a notable professional relationship with playwright Tony Kushner (with whom Newell is currently working on an undisclosed commission for a new play). Under his artistic leadership, the Court Theatre has become the national "Center for Classic Theater," and as such has produced several world premiere adaptations of classic novels, including The Invisible Man and the upcoming, highly-anticipated stage adaptation of Richard Wright's Native Son in collaboration with American Blues Theater.
In May through June for the Court, Newell will be directing David Henry Hwang's M. Butterfly. He made his Chicago directorial debut in 1993 with The Triumph of Love, which won the Joseph Jefferson Award for Best Production. His productions of Man of La Mancha and Caroline, Or Change have also won Best Production Jeffs. His other directorial highlights at the Court include Angels In America, An Iliad, Porgy and Bess, Three Tall Woman, The Year of Magical Thinking, The Wild Duck, Arcadia, Uncle Vanya, Raisin, The Glass Menagerie, Who's Afraid of Virginia Woolf, The Invention of Love, and Hamlet. He has also directed at Goodman Theatre (Tom Stoppard's Rock 'N Roll), Guthrie Theater (resident director: The History Cycle, Cymbeline), Arena Stage, John Houseman's The Acting Company (staff repertory director), the California and Alabama Shakespeare Festivals, Juilliard, and New York University.
Newell is married to actress Kate Collins (All My Children) and they live in Chicago with their two sons. While at Wesleyan, he was roommates with classmate Bradley Whitford '81 (The West Wing; Trophy Wife) and the two are still good friends. He was also classmates with Pamela Tatge '84, director of of Wesleyan's Center for the Arts.