Rosenthal Shares his Pete Seeger Expertise with the Press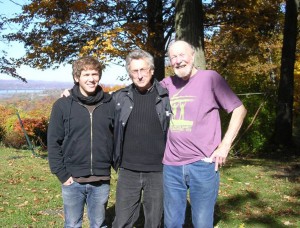 Wesleyan Provost, Vice President of Academic Affairs and John E. Andrus Professor of Sociology Rob Rosenthal got to know Pete Seeger rather well while interviewing and spending time with him for two books he authored: Playing for Change: Music and Musicians in the Service of Social Movements and Pete Seeger: In His Own Words. The latter is a large collection of letters, drafts, poetry, notes and such that had been stored en masse in Seeger's barn. Seeger allowed Rosenthal and his son Sam to sift through and publish selections — over the course of a year — provided he didn't try to make him look like "a saint."
Seeger passed away on Jan. 24 at the age of 94, and since then Rosenthal has been a popular source of knowledge on the folk icon. He's recently been interviewed or mentioned in The New Yorker, The Nation and Huffington Post, to name a few. He also appeared on WNPR's Where We Live program.
In The New Yorker, Rosenthal said:  "[Pete Seeger] was never pessimistic. He always thought that humans would get it together. When you look at the grand movements of the 20th century, he was involved in them all (the women's movement most peripherally). We may think now, 'Wow, we're so messed up.' But he travelled through the South in the 30s, he saw the Hudson cleaned up—a huge, huge thing. He was realistic about how difficult all this was."
Pete Seeger: In His Own Words was published in 2012 by Paradigm Publishers.