Steele, Bonfert-Taylor, Zhu Honored with Binswanger Teaching Prizes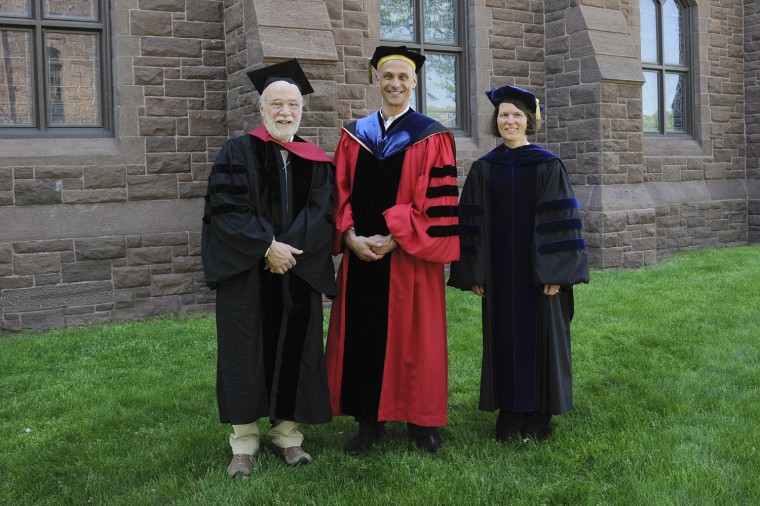 Every year at Commencement, Wesleyan recognizes outstanding teaching with three Binswanger Prizes for Excellence in Teaching. These prizes, made possible by gifts from the family of the late Frank G. Binswanger Sr., Hon. '85, underscore Wesleyan's commitment to its scholar-teachers, who are responsible for the university's distinctive approach to liberal arts education.
Recommendations are solicited from alumni of the last 10 graduating classes, as well as current juniors, seniors, and graduate students. Recipients are chosen by a selection committee of faculty and members of the Alumni Association Executive Committee.
This year, Wesleyan President Michael Roth honored Robert Steele, Petra Bonfert-Taylor and Zhu Xiaomiao (who could not attend the ceremony) for their excellence in teaching:
Robert Steele, professor of psychology, joined the Wesleyan faculty in 1973. He has a BA in biology from Whitman College and a PhD in psychology and social relations from Harvard University. His research interests are extensive, ranging from the topic of his book, Freud and Jung: Conflicts of Interpretation, to his work as director of Diversity Connections, an interactive digital database for the Ford Foundation's Initiative on Diversity in Higher Education. Last year, he was honored with an Edgar Beckham Helping Hand Award for his "outstanding work" and "commitment to social justice."
In courses ranging from Cultural Psychology to Myth, Magic, and Movies (studying the Harry Potter books and films), Steele's teaching has focused on working with students to understand the ways in which sexism, racism, and classism shape our society's representations of different demographic groups and warp our individual preferences and prejudices. In his classes, students find a welcoming environment for free and collaborative expression in which learning becomes transformative, intellectually challenging, and empowering.
Petra Bonfert-Taylor, professor of mathematics, joined the Wesleyan faculty in 1999. She holds an MA and a PhD in mathematics from the Technical University of Berlin. Her courses range from introductory calculus to graduate courses in analysis, and her teaching style emphasizes student engagement via interactive and collaborative class activities and the use of instructional technologies.
Bonfert-Taylor is the author of more than 20 research articles that have appeared in such publications as the Journal of Geometric Analysis, Bulletin of the London Mathematical Society, Mathematical Proceedings of the Cambridge Philosophical Society, and Mathematische Annalen. Her main research interests are complex analysis and geometric function theory, with a focus on discrete group actions. She serves as editor for the American Mathematical Society journal Conformal Geometry and Dynamics. 
Zhu Xiaomiao, adjunct associate professor of Asian languages and literatures and East Asian studies joined the Wesleyan faculty in 1994. She has a BA in English literature from Beijing Normal College and an MA in anthropology from Wesleyan University. She teaches courses in the Chinese language at all levels and has served as the coordinator for a highly intensive and exceptional Chinese language program.
Zhu's teaching and her interactions with her students combine warmth and compassion, unstintingly high expectations, generous support beyond the classroom, and knowledge of cutting-edge Chinese language pedagogy. For several years, she directed summer programs for Wesleyan students to participate in total immersion intensive language programs in China. She also has overseen workshops to train instructors in how to teach Chinese as a second language and led three delegations of public school educators to China through the Yale University Program in International Educational Resources, funded by the Fulbright and Freeman foundations.