Weiner '15 Studies Urban Agriculture, Community for Thesis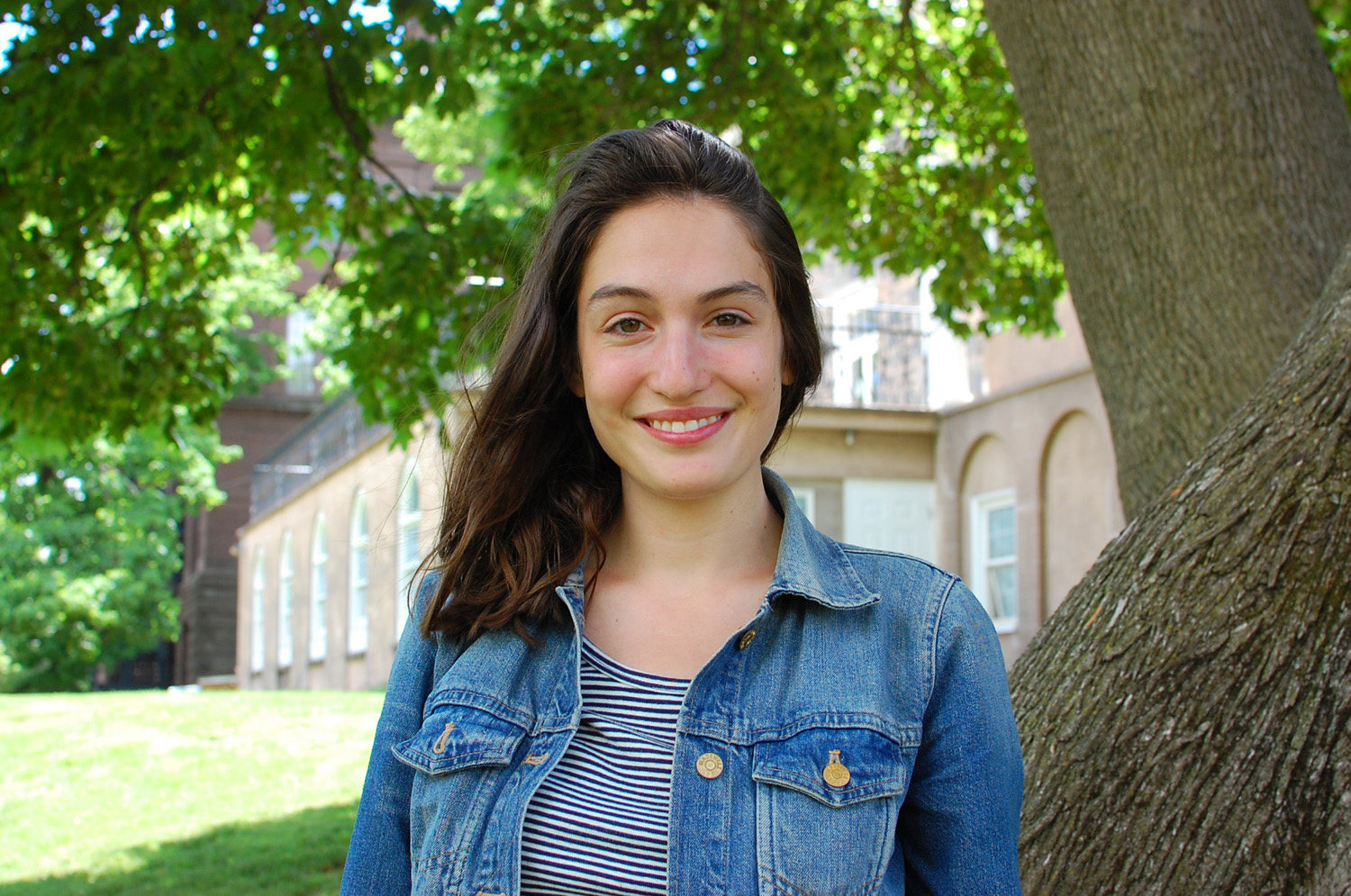 #THISISWHY
In this News @ Wesleyan story, we speak with Kate Weiner from the Class of 2015. Weiner is an anthropology and environmental studies major.
Q: Can you describe your thesis, "Reciprocity: Cultivating Community in Urban Agriculture"?

A: My thesis is an exploration of how community, identity and belonging interact in urban agricultural spaces, with my hands-on fieldwork with East New York Farms! serving as a case study for examining urban agriculture as a political project. Through melding creative non-fiction, feminist theory, community politics and environmental studies, the intention of my thesis is to provide a framework for understanding the various social, natural, socioeconomic and political factors that shape community-making within urban agriculture.
Q: How did you choose your thesis topic?

A: Arriving at my thesis subject was several years in the making. Throughout the summer of 2013, I photographed female urban farmers along the Eastern Seaboard through the support of the College of the Environment's "Visualizing the Environment" grant. As complicated as the experience was, I left the farms deeply hopeful about the potential of urban agriculture to serve as a tool for social, economic and environmental change.
Reciprocity was at the heart of my "Visualizing the Environment" fieldwork. I was immensely grateful for the opportunity to work with these farmers and wanted a way to give back what these women had graciously given to me in time and energy. What it meant to "give back," however, varied across farms. For the Brooklyn Grange, I wrote a grant to fund its beekeeping education program; for New Haven Farms, I helped with publicity. Deborah, the farm manager of East New York Farms! (ENYF) said that what ENYF really needed was more volunteers. Deborah and I spent the following year working together to design the Urban Farms Collaborative (UFC). With the support of the College of the Environment, we were able to fund paid internships for two Wesleyan students to assist with farming, marketing, and community outreach initiatives. Wanting to return to the farm as well, I reached out to the Anthropology Department about writing my thesis on community in urban agriculture. The Anthropology Department was able to fund fieldwork for my thesis research, and because of that I was fortunate enough to spend a richly rewarding, complicated and thought-provoking summer digging deep into the alternative food movement.
Q: How did you become interested in urban agriculture?

A: In high school, my father and I built several raised garden beds in our suburban backyard. The garden was both something that connected members of my family to one another, and gave me a sense of agency in an industrialized food system marked by environmental devastation and exploitative labor practices. Having a garden felt like a (very) small act of revolt against Big Food. And, on a basic level, I loved doing something with the people I loved. My family grew red-violet dragon carrots to share with neighbors and relished the sweetness of a ripe pear tomato during summer nights. Even though I don't consider myself much of a farmer, I came to enjoy gardening as a personal and political endeavor.
These experiences drove me to study urban agriculture once I reached college. I was fascinated by the ways in which diverse communities were working within limited space constraints to develop nourishing sites of production. In most instances of urban agriculture, food production is only a sliver of the farm's broader goal. The multiple functions of urban agriculture—as a means of environmental education and community engagement, as a source of food security and as a challenge to the capitalist framework—offers individuals varied entry points into cultivating a relationship with our environment, food and one another.
Q: What lessons did you learn during the course of your fieldwork?

A: We're fed this narrative that the alternative food movement is fundamentally elitist. Without question, there are aspects of this notion that hold true. Environmental injustice is a devastating force at work in the U.S. and the world: Many of the most economically disadvantaged communities in the U.S. are also those that are experiencing the highest rates of food insecurity.
What my fieldwork taught me to challenge, however, is the idea that the bourgeoisie alternative food movement is the only food movement at work. In reality, the food movement is a pluriverse that encompasses many different kinds of perspectives. The limited perception of urban agriculture as either a bourgeois enterprise in upper-class enclaves or a charitable endeavor serving low-income persons of color in food deserts doesn't do justice to the diversity of environmental initiatives in this country.
And we need to be vigilant about recognizing the multiplicity of the food movement because assuming it is elitist only exacerbates the problem. I have had friends and family members refuse to shop at farmers' markets because they think that these sites of exchange are "for rich people only." When we start to think that every farmers' market is like the Greenmarket in Union Square (a fairly pricey farmers' markets) we invisibilize the thousand other farmers' markets that are serving good food at fair prices that benefit both the producer and the consumer. Maybe some of these communities don't identify their work as "food justice." Maybe some urban agriculturalists don't relate to the term "farmer." But that doesn't mean that these individuals and initiatives aren't active, essential participants in growing the food movement.
Q: Are there any particular moments that stand out for you as the most memorable?
A: For me, the most memorable moments during my research were almost always when watching my farm managers, Shella and Deborah, at work on the farm. Both women were so gracious and generous to passersby. Observing their compassionate approach to farming—and their willingness to engage with strangers—strengthened my understanding of urban agriculture as a site for social change. The porous boundaries of a city farm put many different people into contact with one another. I was always amazed at how my mentors navigated working at the intersection of such diverse worlds.
Q: How did your research change or broaden the meaning of community for you?

A: My experience at East New York Farms! affirmed for me just how fluid community is. We are always coming into a sense of community as our surroundings—and the people within these places—shift. I didn't always feel like I "belonged" on the farm. In spite of this, I continually felt grateful that I got to work in this place and with these people. Communities aren't static. There's a potent beauty in realizing that the community you are integrated in or are seeking to integrate into is perpetually in flux. You're always finding your footing as you are losing your ground and that is what gives us the momentum to keep growing, learning and connecting with one another.
Working on the farm taught me a lot about the necessity of compassionate critique, both in how I handled my own personal shortcomings and in how I considered urban agriculture in the context of the alternative food movement. Exercising compassion in your interactions is essential: My experience at East New York Farms! truly drove that point home.