Wesleyan Supports Historic Russell Chapel Restoration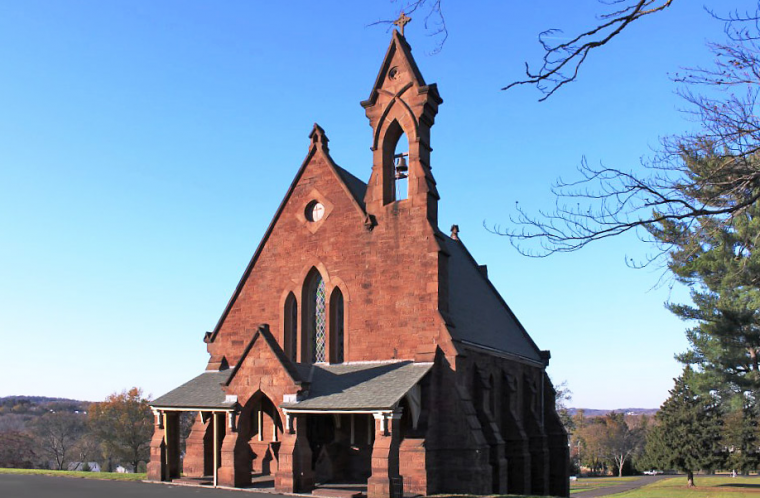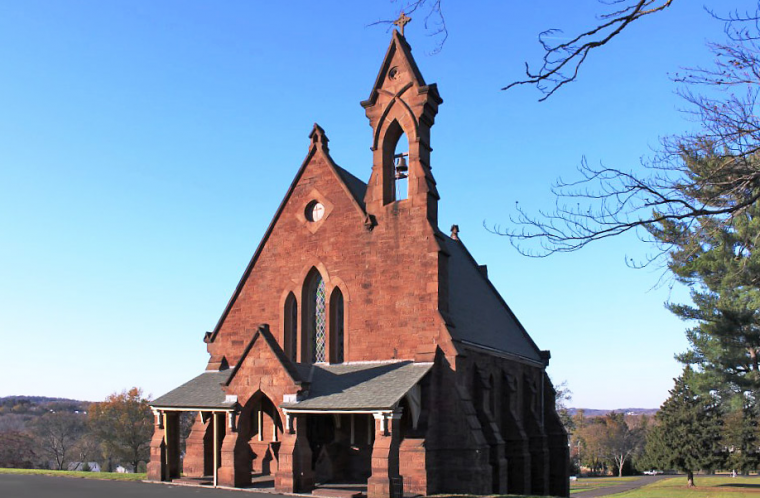 In 1867, Middletown's Frances Russell donated a Gothic Revival Chapel in memory of her late husband Samuel Russell. Samuel, an entrepreneur and trader, was the owner and namesake of Wesleyan's Russell House.
The architecturally-distinctive brownstone Russell Chapel, which is listed on the Connecticut Register of Historic Places, sits atop the southwest hill on Indian Hill Cemetery and abuts Wesleyan University on Vine Street. Now, at 148-years-old, the Chapel has reached a dangerous structural tipping point and rehabilitation is desperately needed.
"Indian Hill Cemetery is an integral part of our community," said Wesleyan President Michael Roth. "Kari, Mathilde and I frequently take walks through the cemetery's immaculate grounds, which offer pristine views of Middletown and sections of campus. I know several students and other employees who enjoy the grounds as much as we do, and the Russell Chapel is the iconic centerpiece."
President Roth, who is an honorary chair of the Russell Chapel Rehabilitation Fund is asking the Wesleyan community to consider making a donation to help restore and preserve the unique Chapel.
"In the late 1800s, many Wesleyan students included photographs of the Russell Chapel in their personalized yearbooks, and even today, Wesleyan film students use the Chapel and Indian Hill Cemetery for their projects," Roth said.
Constructed of Portland Brownstone and embellished with small brownstone carvings, the Russell Chapel notably houses its original Meneely Bell, forged in Troy, New York in 1868. Its interior is adorned with notable stained glass windows and elegant woodwork begging to be refurbished.
In 2012, a matching grant from the Connecticut Trust for Historic Preservation funded and engineering study on the property. In 2014, a second grant, a $200,000 matching grant from the State Historic Preservation Office, was awarded to begin Phase I of the restoration of the Chapel at Indian Hill. Basic restoration began in March 2015.
"A total of $600,000, including the grant, is needed to completely restore this lovely, historic structure — its window, its interior embellishments and its soul," said Claudia DeFrance, chair of the development committee. "A restored Russell Chapel will add to this living tableau by contributing a lovely and sheltered setting for funeral services and other events."
Any Wesleyan students, alumni or employees who would like help preserve a piece of Middletown's celebrated past, may make a donation to the Russell Chapel Rehabilitation Fund. Memorial gifts and multi-year pledges are welcome, as are designated gifts.
To make a gift or to learn more about the history of the chapel, visit http://indian-hill.org/chapel/.