Changemakers Convene at Wesleyan Social Impact Summit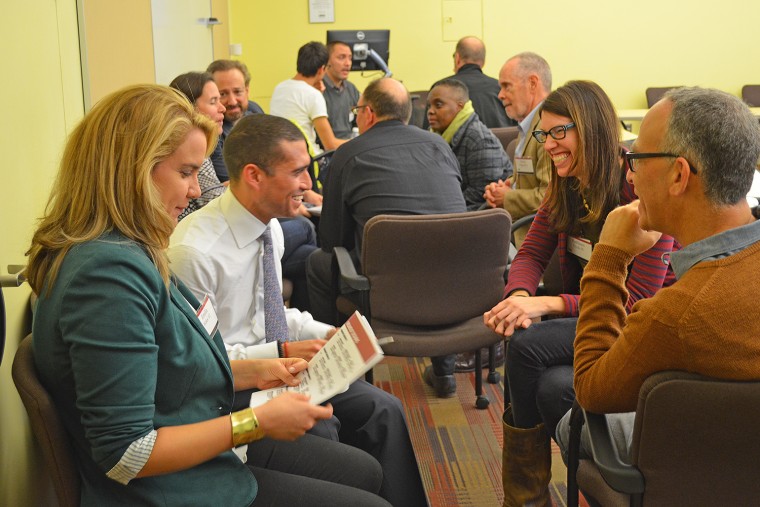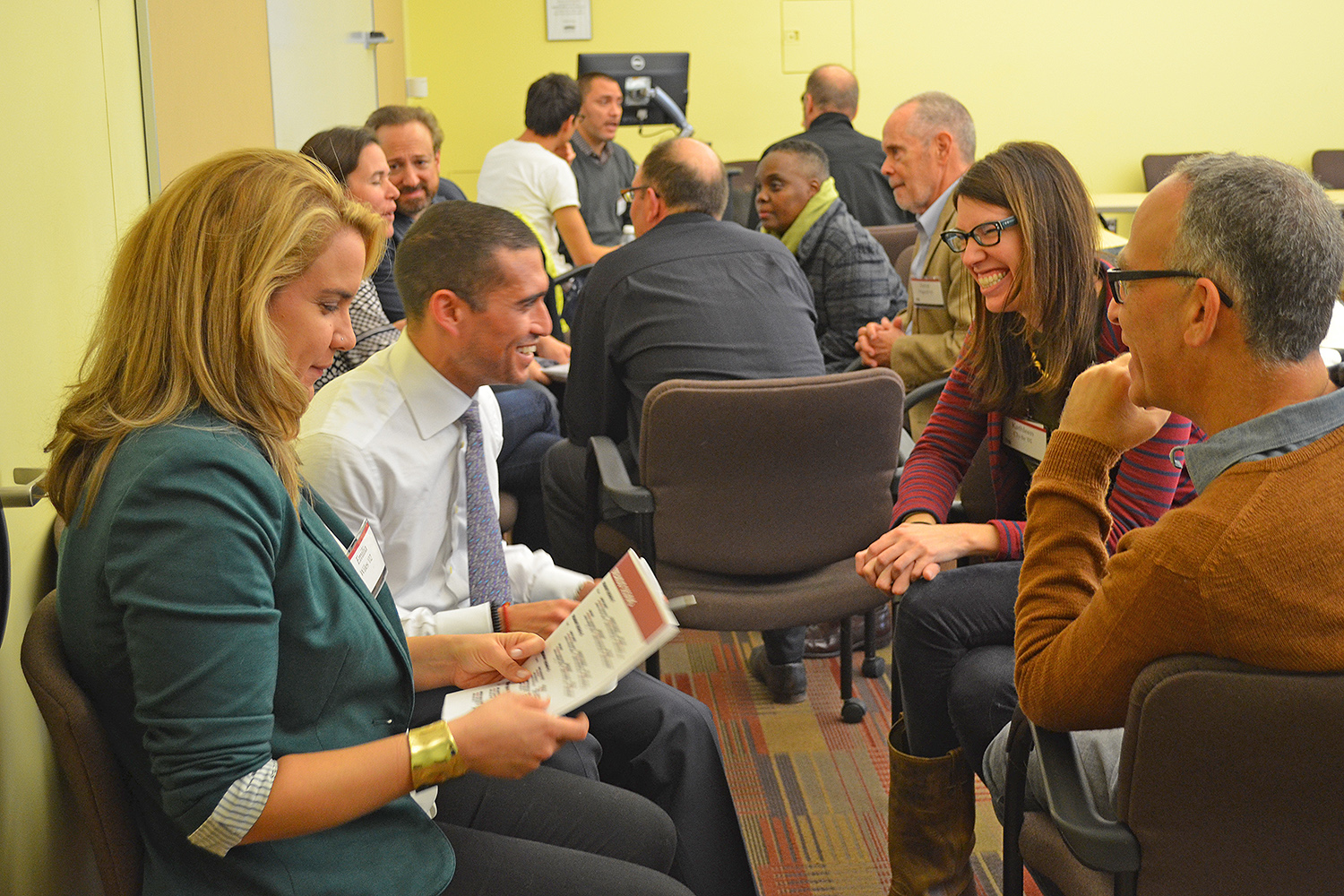 More than 100 alumni and other members of the Wesleyan community attended the Social Impact Summit, Nov. 13-14, on campus. The summit was sponsored by the Shasha Seminar for Human Concerns. Endowed by James Shasha '50, P'82, the seminar supports lifelong learning and encourages participants to expand their knowledge and perspectives on significant issues. The event included keynote speakers with TED-style talks on the theme "The Change I Want to See," panel discussions, and workshops, as well as networking opportunities.
"Social impact and entrepreneurship are deeply embedded in Wesleyan culture, and our students and alumni are known for creating significant change in the world," said Makaela Kingsley '98, director of the Patricelli Center for Social Entrepreneurship. Rob Rosenthal, director of the Allbritton Center for the Study of Public Life; and Cathy Lechowicz, director of the Center for Community Partnerships also provided welcoming remarks.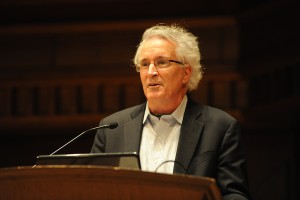 Keynote speakers offering TED-style remarks in Memorial Chapel, which were open to the public. They included Kirk Adams '73 P'13, international executive vice president of the Service Employees International Union, who leads the work of SEIU Healthcare; Irma Gonzalez, the principal of Zoen, specializing in change and transition management in support of social justice advocacy; Jessica Posner Odede '09 chief operating officer and co-founder of Shining Hope for Communities; and Kennedy Odede '12, the CEO and co-founder of Shining Hope for Communities (SHOFCO).
In their talks, Adams spoke on making voting "accessible, universal, and familiar," calling for the effort to "push this country to be what it should be." Gonzalez highlighted the qualities of an equitable society—one where our success would not be predetermined by birth and skin color. "How do we harness technology in the service of social justice?" she asked.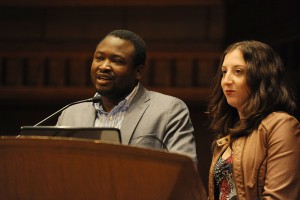 Both Odedes touched on the importance of hope. "I think, sometimes, as young people we need to be crazy, in order to fix things," Kennedy said. Jessica recounted a story illustrating the intelligence of their students at Shining Hope for Community, noting that without education, the girls' future would be bleak. "One of the worst things is wasted human potential," she said. In their honor, the Ford Foundation provided copies of their book, Find Me Unafraid: Love, Loss and Hope in an African Slum, in which the two share the task of writing chapters that trace their background and the incidents—and inspiration—that led them to founding their school for girls in Kibera.
Summit workshops included an opportunity to meet other attendees, facilitated by Melinda Weekes-Laidlow '89, president of Weekes in Advance Enterprises, an organizational development firm offering consulting, facilitation, coaching and professional development services in arts and culture, social innovation, racial equity and collaborative leadership spaces. Breakout groups on marketing/communication, politics, entrepreneurship, digital media, community organizing, fundraising, entrepreneurship, environment, and career planning gave attendees a wide range of topics to explore, with facilitators who are specialists in those fields.
In closing remarks, President Michael Roth '78 reflected on the microcosm of social change happening on campus, offering the perspective that college students are to be admired for their courage, intelligence, and hopefulness. Many attendees picked up on that positive message, paraphrasing it in tweets.
Pat Jivamongkol '16, an economics and government double-major from Thailand, learned about the Summit through the Non-Profits and Social Change class taught by Rosenthal. "What I got from this Summit is the assurance that I can make a career out of the non-profit world, which before this I was uncertain due to the normative beliefs instilled in me that work means only consulting or commercial marketing."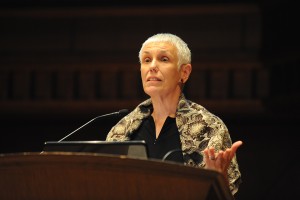 Caroline Liu '18, from Phoenix, Ariz., an intern for the Office of Communications who assisted in the event, called it "eye-opening." She said, "I expected to stick out entirely for being a student, not an established professional in any sort of industry, but the alumni and attendees all pleasantly surprised me by asking me my interests, goals, and involvements on campus.It was lovely to see how passionate everyone was not only about their work but about helping others reach their same level of achievement, by offering tips and business cards wherever they thought helpful."
Rosenthal reflected on the event, saying, "It was terrific to have so many Wes alums involved in Social Impact in the same place at the same time. I think everyone there felt there was a significant payoff, both in terms of all kinds of future collaborations, but also in a renewed sense of purpose and celebration that comes from hearing the stories of your peers and having them hear yours."
Kingsley also offered reflections: "Having worked with Wesleyan activists, organizers, and social entrepreneurs for several years, I had no doubt this would be an impactful conference. When you bring Wesleyan people together, impressive things happen! It's as simple as that.
"The unexpected part for me personally was how hopeful I felt as the Summit concluded. The world has so many significant problems right now, but there was incredible optimism in the room all weekend.
"E. B. White once said, 'I arise in the morning torn between a desire to improve the world and a desire to enjoy the world. This makes it hard to plan the day.' Well, the people at the Summit clearly manage to do both. It was inspiring to spend the weekend with all of them."
Follow the #wesimpact Twitter feed online here.
More photos of the Social Impact Summit are below: (Photos by Will Barr '18 and Kristen Woronoff)