Basinger Interviewed in Ingrid Bergman Documentary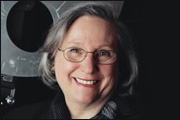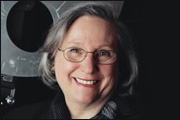 Jeanine Basinger, the Corwin-Fuller Professor of Film Studies, appears in an interview about internationally renowned film actress Ingrid Bergman in the new documentary Ingrid Bergman—In Her Own Words, directed by Stig Bjorkman, which recounts the life of the cinema luminary through the subject's home movies, photographs, diary entries and letters to family and friends.
The director had access to these materials from the Ingrid Bergman Collection at the Wesleyan Cinema Archives, making ample use of them in the film. The documentary also features interviews with Bergman's daughter, actress and filmmaker Isabella Rossellini, as well as other relatives and actresses Liv Ullmann and Sigourney Weaver, who worked with Bergman.
In her New York Times review of the film, which recently opened theatrically in New York City, Manolha Dargis writes: "Bergman's voluminous personal archives have been a valuable resource for assorted popular biographies and academic studies, enriching the historical record of her films, family and loves."
Professor Basinger comments: "We are all very proud of this documentary that is showing both in theaters and on television. We're very excited to see the Wesleyan campus and the cinema archives building suddenly appear on screen. I enjoyed doing the interview because Isabella Rossellini was there with me and because the film crew was so totally committed to making an accurate documentary on Bergman's life."
An interview with the director, which mentions the Ingrid Bergman Archives is in this indiewire.com article.