Cherubin Named New University Librarian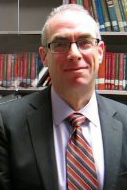 Dan Cherubin has been selected as the Caleb T. Winchester University Librarian at Wesleyan, starting on July 1, 2016.
Cherubin has more than 20 years of experience in library and information services, most recently as the Chief Librarian and Associate Dean at Hunter College in New York. At Hunter, Cherubin was responsible for overseeing four libraries and had major roles in facility and space planning, implementation of technology, and the development of a strategic plan for the policies and practices of the library.
At Wesleyan he will work with the library staff to develop a strategic plan to integrate the library more fully into Wesleyan's broader intellectual community.
"We encourage all constituencies across the University to be thinking of how the library can be engaged in, and enhance, educational and scholarly activities," said Joyce Jacobsen, provost and vice president for Academic Affairs.
Cherubin has a BA in music from Bard College, an MS in library science from Columbia, and an MA in media studies from New School University.
The search committee members included David Baird, Melissa Behney, Marc Eisner, Sally Grucan, Julia Hicks, Mark Hovey, Ellen Nerenberg, Laura Patey, Gil Skillman, Anjali Tamhankar, Suzy Taraba, student representative Noah Kahan, and committee chair Joe Knee.
"A special thanks also goes to Interim University Librarian Diane Klare, who stepped in and did a great job at maintaining the high standards that we have come to expect from the library," Jacobsen said. "Please join me in welcoming Dan to the Wesleyan community."