NY Times Critic Calls Art Exhibition by Rowland '11 "Remarkable"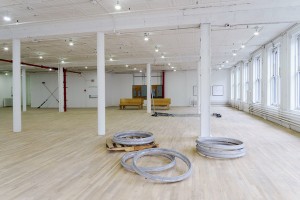 "The objects in Cameron Rowland's remarkable show at Artists Space offer a history lesson and an aesthetic experience, intricately fused," wrote New York Times art critic Roberta Smith in a Jan. 28 article. "Accompanied by terse explanatory captions, they expose some of the troubling inequities in American society, especially concerning its prisons and their use of compulsory inmate labor. The process of grasping the meaning of this work equally involves looking, reading and feeling but its subject is one of the most urgent of our time."
In his current show, titled "91020000," Rowland '11 carefully placed items in the space that were created by inmates, a population that is disproportionately African American. Included are wood benches, often used in courtrooms, as well as office desks. The description, written by Rowland, of "Attica Series Desk,"  notes that in Attica's prison rebellion of 1971, one of the inmates' central demands was that they be paid at least minimum-wage for their labor. Smith places Rowland's work in a "long tradition of art dealing with racial issues," including Glenn Ligon '82.
Rowland is known for his "carefully chosen, sometimes arcane use of existing objects." For instance, Rowland's 2014 solo show, "Bait, Inc.," included such items as copper pipes and car parts—scavenged items that are valuable in an underground economy—presented as commentary on those who profit—investors and the government—from recent workfare programs.
"By making us look through his stubborn objects, back to their physical origins, to the systems they serve and to the corrosive practices that they perpetuate, they make viscerally real America's tragic racial divide," Smith wrote.
"91020000" is on view through March 13 at Artists Space, 38 Greene Street, at Grand Street, SoHo; 212-226-3970, artistsspace­.org and on Facebook.