Miranda '02 Named One of TIME's "100 Most Influential People" in the World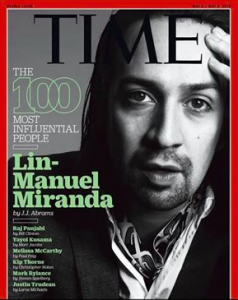 Pulitzer Prize winner Lin-Manuel Miranda '02, Hon. '15, creator of Broadway's Hamilton, was recently named one of TIME's "100 Most Influential People in the World" for 2016 in the Pioneers category.
In TIME, writer, producer and director J.J. Abrams writes, "So much has been said about Hamilton, I assume you know this already: the musical's embracing of history and rhythm, race and rhyme, melody and passion is an actual stunning event. Tickets are impossible to get for good reason: even in this age of ubiquitous hyperbole, it can safely be said that Hamilton is one of the best things—not just theatrical events—you'll ever see."
"Knowing the man, experiencing his exuberance and dazzle up close, is as delightful as the show itself. His wit would be intimidating if not for his natural and infectious charm. Somehow he is as generous, collaborative and lovable as he is innovative and brilliant."
In other news, Miranda was influential in keeping Hamilton on the $10 bill. The movement to keep Hamilton on the $10 bill gathered strength after the Broadway musical named after the founding father became a smash hit. Miranda directly lobbied Treasury Secretary Jack Lew last month on Hamilton's behalf.
In addition, Miranda and the Hamilton crew paid tribute to Prince after a recent Hamilton performance; he was interviewed by Maria Santana '97 for CNN – Espanol; he spoke on Last Week Tonight with John Oliver about the debt crisis in Puerto Rico; and he was featured in the April 22 edition of The Washington Post in an article titled, "Imagine being Lin-Manuel Miranda Right Now."