7 Inducted into 2016 Class of Wesleyan Baseball Wall of Fame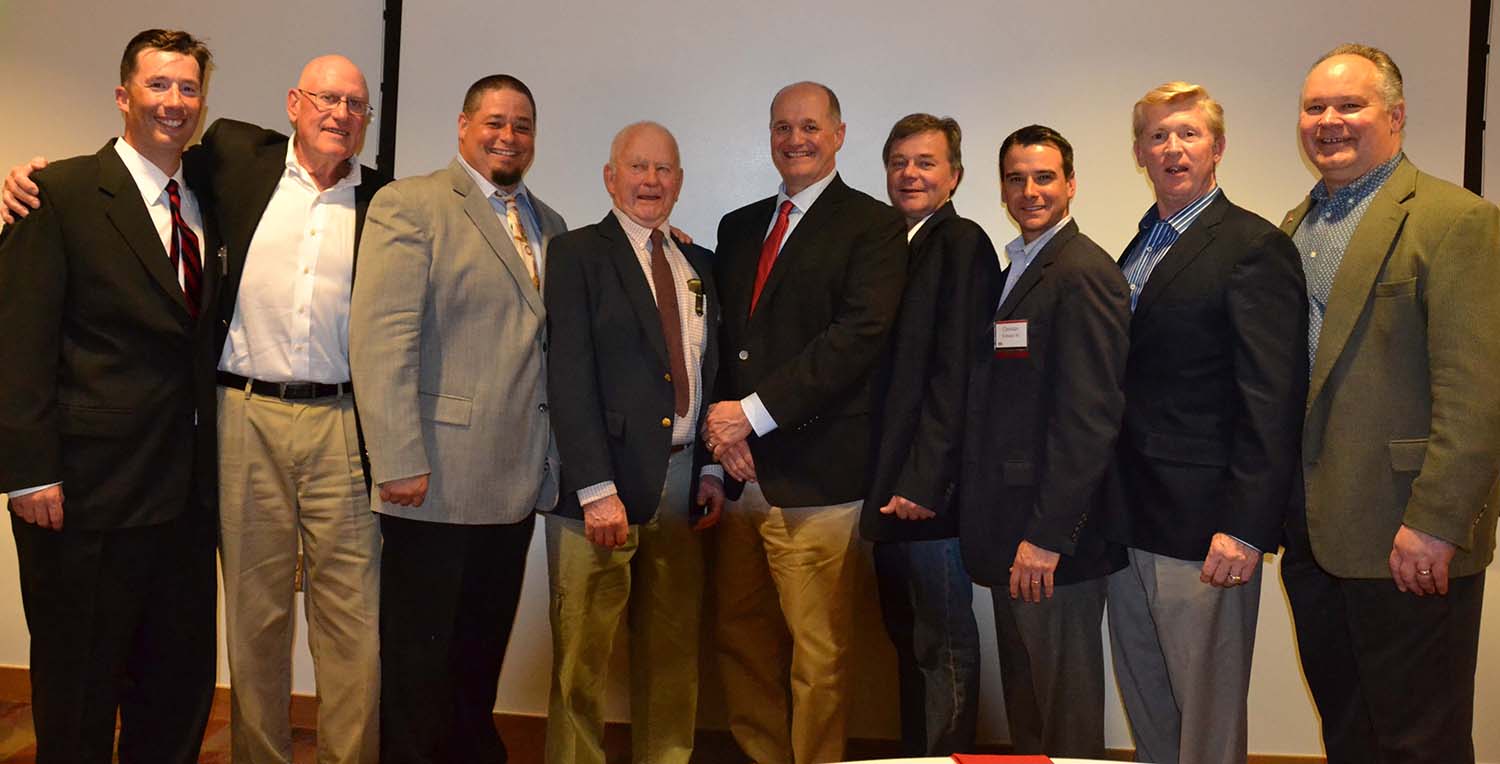 On May 5, the Daniel Family Common was the site for the 2016 induction into the Baseball Wall of Fame.
Seven alumni, ranging in class years from 1959 to 2000 were there with family and friends to reminisce about their outstanding Wesleyan baseball careers, as well as celebrate the program for what it is accomplishing currently. Both Ken Janik '85, who played baseball for Wesleyan, and Wesleyan Baseball Coach Mark Woodworth '94 offered introductory remarks.
Athletic Director Michael Whalen '83 noted the significance of these awards. "The Wesleyan baseball program has a tradition of excellence dating back to the 1950's. The Wall-Of-Fame celebration not only brings together players from different eras in honor of outstanding baseball achievement, it connects current student-athletes with those who wore the Red and Black before them."
The seven inductees of the 2016 Wall of Fame Class were:
Tom Young '59, captain and catcher for the '59 team that went 24-4-1 in his junior and senior years and wont two Little Three titles. He was a longtime baseball coach at the Berkshire School, where the field is named after him;
Phil Rockwell '65, P'11, left-handed pitcher and co-captain for the Cards and part of the two Little Three champion teams, including a 14-2 squad in 1964. As a junior and senior, He dominated against Williams and Amherst and also beat Yale. He was the 1965 McNaughten Award winner and played for the Cape Cod League;
Kevin Rose '78, P'19, who, as a senior, was named First-Team All New England as a senior. The 1979 MacNaughten Award winner, he played in the Cape Cod League as well as professionally baseball with the Newark Bears;
Steve Donovan '83 graduated as Wesleyan's all-time hit leader. A centerfielder, he helped lead his squad to two Little Three titles, three ECAC tournament appearances, and had a 24-6 record in his senior year;
Todd Mogren '83, a pitcher, was named First-Team All-New England as a senior and still holds two Wesleyan records—for appearances in a season (20) and career innings (289.1). The 1983 MacNaughten Award winner, he won two Little Three titles and pitched the Cardinals to victory over Yale in both his junior and senior years.
Jesse Carpenter '96, who has the highest single-season battling average in Wesleyan history, at .446, was named First-Team All-New England in 1995. A third baseman, his career batting average of .379 is the third all-time in school history. His three hits and home runs in the New England NCAA championship game catapulted the Cardinals to the 1994 World Series. His teams won four Little Three titles. He was the 1996 MacNaughten Award Winner.
Christian Frattasio '00, a four-year starter for the Cardinals, was a left-handed hitting infielder who graduated fourth all-time in career hits with 146. He was named First Team All-NESCAC as a senior and led his squad to a Little Three title. He currently serves as president of the Friends of Wesleyan Baseball.
At the end of the evening, Woodworth observed: "What a great night! To discover what Wesleyan Baseball means to people, all you had to do was be in the room and feel the energy of 150 people connecting the past, present and future. For alums, family, friends, current players, parents and coaches, it was a celebration and affirmation of everyone who has been impacted by the Wesleyan Baseball program."
Also applauding the seven were baseball team faculty sponsor Professor of Government Guilio Gallaroti, and James van B. Dresser '62, trustee  and board chair emeritus, for whom Dresser Diamond was named and dedicated in 2010. Members of the 2016 Wesleyan Baseball team were also there to applaud the Cardinal heroes from previous eras.
The Wall of Fame was begun in 2014. The 14 previous inductees included Pete Kostacopoulos, who coached the cardinals from 1974 through 2001, and Norm Daniels, who coached from 1941 through 1973. Rob Sansone '79, an alumnus of Wesleyan Baseball, sponsored the 2016 Wall of Fame dinner.
Click here for information on the 2014 and 2015 awards.