Sprinkles Founder Nelson '96 Highlights Frosting Demos at New Store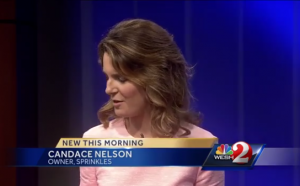 In a video interview with central Florida's WESH to celebrate the opening of the newest location of Sprinkles Cupcakes at Disney Springs, the store's founder Candace Nelson '96 offered a brief frosting tutorial.
"All of our cupcakes at Sprinkles are hand-frosted," she noted. "You can actually come to our store at Disney Springs and see those cupcakes being frosted in our frosting theater. All of our frosters are in a cute little window so you can see them do their magic at Sprinkles."
Additionally, she said that cupcakes ATMs are open until 2 a.m. for those on the late-night prowl: "It's technology and pleasure coming together in the form of a cupcake."
"We had a line of 100 people deep when we opened on Sunday and it has been going strong ever since, and we are so grateful," she said. The popularity of the store, she said, is based on the company's "commitment to quality, freshness, wonderful flavors, with someone for everyone." Sprinkles now offers gluten-free, vegan, and sugar-free treats in addition to the original signature cupcakes.
Nelson opened her first store in Beverly Hills with her husband Charles in 2005, a story that appeared in the Wesleyan magazine in 2010. It was one of the first cupcake-only bakeries, although has expanded its line to include cookies and ice cream, as well. The Disney Springs location is store No. 20.