Saint John '99 Wows Crowd at Apple's Developers Conference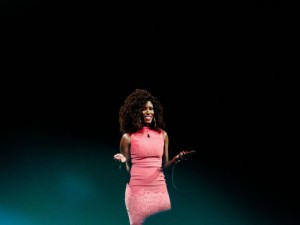 Bozoma Saint John '99 took the stage at Apple's annual Worldwide Developers Conference (WWDC), held this year in San Francisco, and stole the show. "It's not just that Saint John, head of marketing for Apple Music, was a black female executive appearing onstage at WWDC. It was the way she commanded the room—and the show—that blew everyone away," wrote Davey Albey for Wired.
Saint John, who spoke about Apple's streaming music service, which now has 15 million users, had led Apple Music's marketing division since April 2014, when Apple acquired Beats, the company she had joined three months previously. Prior to that, she led the music and entertainment marketing group at Pepsi-Cola's North America division,
Noted for her impressive career around connecting musicians and artists with brands, Saint John has received accolades and awards from numerous organizations, including induction into the American Advertising Federation's Advertising Hall of Achievement. Her appearance at WWDC garnered articles in Fortune and Business Insider. Nevertheless, she does not let her success go to her head, notes Albey, and explores the ethos behind Saint John's work with Tiffany Warren, chief diversity officer and  senior VP of Omnicon group, an advertising and marketing company.
"'[S]he turns around and gives it back immediately,' says Warren. …'She's an incredible sponsor and mentor to many.'" Saint John also returned to campus for WesFest, speaking to admitted students and their parents about her formative years at Wesleyan as the place where she began to think about a career in the music industry.