Junger '84 Speaks on American Heroes for PBS News Hour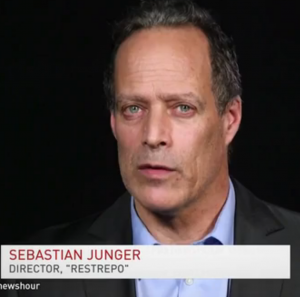 For the July 4 PBS News Hour, hosted by John Yang '80, Sebastian Junger '84 offered a video essay, his reflections on American heroes.
"Several years ago," Junger begins," I spent much of a deployment with a platoon of combat infantry at a remote outpost called Restrepo. It was named after a medic, PFC Juan Sebastiàn Restrepo, who was born in Columbia, emigrated to America as a child, and died fighting at the bottom of a hill in Afghanistan…. The platoon was in several hundred firefights that year. And everyone out there was almost killed. Yet over and over, I watched perfectly normal people risk their lives to keep others safe. No one was more important than anyone else—and race religion and politics had absolutely no relevance at Restrepo. It was the most profoundly egalitarian place I'd ever been."
From these experiences, Junger and his colleague, the late photographer Tim Herrington, had created and directed a feature-length documentary about the Afghanistan war, Restrepo, in 2010.
In his essay, Junger uses this lens to consider the ideal that is America, offers examples of everyday heroism, and urges all of us—including those in "the halls of power"—to remember the promises of equality and justice on which the country was founded.