Arnson '76 Offers Insight into Colombia's FARC Peace Deal for 'PBS NewsHour'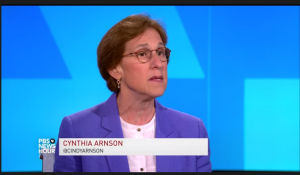 On Aug. 24, Colombia's president signed a peace deal with FARC rebels, ending the world's longest running conflict. For insight on the accord, PBS NewsHour anchor and correspondent Hari Sreenivasan turned to Cynthia Arnson '76, director of the Latin American Program at the Woodrow Wilson International Center for Scholars.
Noting that the text of the accord is complex, covering more than 250 pages and  five basic agreements—agrarian reform, upcoming FARC political engagement, illicit economies (including drug trafficking), transitional justice, and terms of disarmament—Arnson added, "And as with any peace accord, the real test comes when it's time to implement, and the government and all of Colombian society have to live up to the agreement, including the FARC."
In the segment, Sreenivasan asked Arnson to explore if the level of distrust between the factions is likely to complicate FARC disarmament and whether the human rights violations on both sides will scuttle the agreement. "How do you bring some of those perpetrators to justice while you build this peace?" he asked Arson.
"Well, it is hugely controversial. And the country is very polarized," she admitted. "And there will be a plebiscite, a chance for the Colombian public to vote either yes or no for the peace accord to be binding and valid. Thirteen percent—50 percent of 13 percent of the registered voters have to come out and approve the peace accord that's been negotiated.
"And the most strident critic is the former president, Alvaro Uribe, and the current president, Santos, was his defense minister, and so there is a tremendous amount of bad blood. And there are provisions on transitional justice and on the political participation of the FARC guerrillas that are really, really controversial.
"And there is an expression in Spanish about swallowing frogs. And I think there are many such frogs in this agreement." (For more, see also PBS NewsHour on Facebook for a video questions and answer session with Arnson and Sreenivasan on the topic).