Angelson '08 is Star of Amazon's Newsroom Drama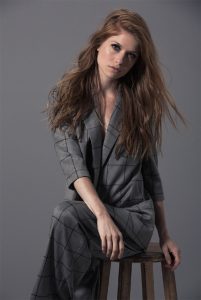 Season one of Amazon's period drama, Good Girls Revolt, premiered in October 2016 and the show's star is Genevieve Angelson '08.
Good Girls Revolt is based on the book by Lynn Povich P'03, and coincidentally stars another Wesleyan parent, Jim Belushi P'04. Povich is an award-winning journalist who wrote about her early career at Newsweek. She was one of 46 women who sued the magazine for sex discrimination in 1970. After the lawsuit, Newsweek agreed to provide equal employment opportunities to women, and Povich went on to become the first female senior editor in Newsweek's history.
Angelson, who was a film studies major, attended Wesleyan with Povich's daughter, Sarah Shephard '03. She read the book when it was published, and she even knew a few of the women involved in the lawsuit. In what she describes as "completely serendipitous," Angelson was given the script and an audition for a role in the series.
She described an intense attachment to the script and the story. "When I saw what it was based on, I wanted it so much," she explained. "I thought if someone else gets [the part], it's not going to mean as much to her."
She recalled being so thankful to the production and writing teams for wanting to tell the story of the female employees who changed the workplace for women everywhere. During her audition, she said, "Cast me, or don't cast me in this part. Cast the right person, whoever that is, but please take this pilot and make it into a series. I'm a part of a generation of women who need this kind of story to be told."
Angelson indeed landed the part of Patti Robinson, a brilliant researcher who wants to be treated equally with the male journalists in the newsroom.
However, when Angelson first arrived at Wesleyan, she did not set out to be an actress. She chose Wesleyan for the liberal arts education she would receive and for the student body she would be a part of. Then, during her junior year, she worked at a production firm in Hollywood, an experience that helped her see the options she had to work in the film business if she didn't pursue acting. She said, "I was good at it, but I wasn't fulfilled in my soul. That's when I made the decision to train to become an actress."
After Wesleyan, Angelson went on to graduate from New York University's Tisch School of the Arts master's program. From there, she landed television roles on series such as Fox's Backstrom, where she played the lead role of Detective Sergeant Nicole Gravely, and Showtime's House of Lies, where she played the role of Caitlyn Hobart.
[youtube]https://www.youtube.com/watch?v=_R0DqIcUntc[/youtube]