Drennan '09 Inducted into Connecticut Volleyball Hall of Fame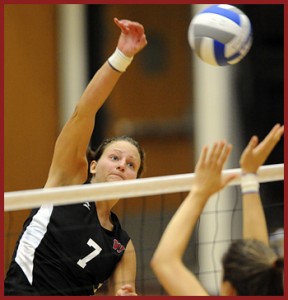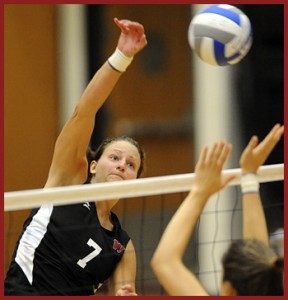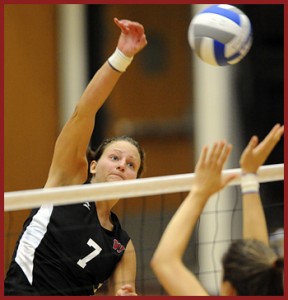 Former Wesleyan volleyball standout Lisa Drennan '09 was recently inducted into the Connecticut Women's Volleyball Hall of Fame for her decorated collegiate career. The dinner ceremony took place Nov. 24 at the Aqua Turf in Southington, Conn.
Drennan was a four-year member of the Cardinals from 2005-to-2008, and helped guide Wesleyan to a 73-36 (.670) overall record and 24-16 (.600) NESCAC mark during that period, which included four straight conference tournament appearances.
Former Wesleyan head coach Gale Lackey said, "When your best player is also the hardest worker on the team, the team is lifted and good things happen. That is what Lisa brought to our teams for four years."
Drennan is one of the greatest women's volleyball players in Wesleyan history, and currently holds three records: highest kills per set in a career (4.92), highest kills per set in a season (5.56), and most kills in a single match (34).
She was named the NESCAC Player of the Year as a sophomore (2006) and senior (2008), earned Second Team All-American honors as a senior, received Honorable Mention All-America laurels as a junior, and won the Hoaglund Award for most outstanding female athlete at Wesleyan. Additionally, Drennan was named a three-time First Team All-NESCAC selection, and earned Second Team All-NESCAC laurels as a freshman.
For three consecutive years, from 2006-08, she ranked within the top-five nationally in NCAA Division III in kills per set. In addition to her program-best 4.92 kills per set career mark, she also averaged 2.73 digs, 0.68 blocks and 0.46 service aces per set with an incredible .298 hitting percentage over her four-year career.
Drennan also excelled in the classroom and earned Second Team Academic All-America honors from the College Sports Information Directors of America (CoSIDA) her senior year. It was the highest academic achievement ever by a Wesleyan volleyball player.