Celebrate the Life of Dr. Martin Luther King Jr. Feb. 3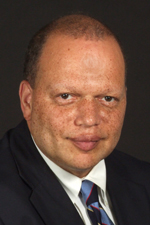 The Dr. Martin Luther King Jr. Celebration planning committee invites all members of the Wesleyan community to take part in a MLK Commemoration from 12:15 to 1:15 p.m. Feb. 3 in Memorial Chapel. A reception will follow in Zelnick Pavilion.
Theodore Shaw '76, Hon. '14 will deliver the keynote address titled "Freedom is a Constant Struggle." Shaw is the Julius L. Chambers Distinguished Professor of Law and Director of the Center for Civil Rights at the University of North Carolina School of Law at Chapel Hill. Professor Shaw was the fifth Director-Counsel and President of the NAACP Legal Defense and Educational Fund, Inc., for which he worked in various capacities over the span of 26 years.
He received a BA with Honors from Wesleyan in 1976 and was awarded an honorary degree from Wesleyan in 2014. He earned a J.D. from Columbia Law School in 1979, where he was a Charles Evans Hughes Fellow.
Listen to an interview with Shaw in this Careers by Design podcast.